Taylor Swift with Tom Hiddleston in tacky tank top spawn fake hookup for music video rumor
A conspiracy theory has popped up online as Taylor Swift and Tom Hiddleston seem to be playing it up for the cameras just a little too much.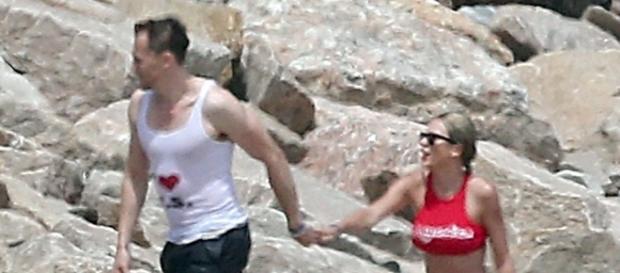 It seems that Taylor Swift and Tom Hiddleston's whirlwind love affair isn't very convincing to some and a conspiracy theory has popped up online. The Swift-Hiddleston love-fest that has unfolded in pictures during their long holiday weekend at Swift's oceanfront Rhode Island mansion is thought to be staged. Many believe what the public is seeing is the making of a music video with all this love-struck behavior staged for the media. The conspiracy theorists might be on to something, especially after seeing what a grown man of 35 wore on the beach when meeting his new girlfriend's group of close pals.
It's just too child-like to be true!
Tacky declaration of love for Taylor Swift.
One of the first clues of this relationship possibly being a ploy for creating a music video was seen on Hiddleston.
Any guy who is 35-years-old looks just a bit insipid wearing a tank-top with "I (heart) T.S. in gigantic letters. He sported this ridiculous garb while meeting a bunch of the 26-year-old singer's friends for the first time during this holiday bash. As if that wasn't enough juvenile-like behavior, he is also sporting a tattoo on his arm of a red heart with the letter "T" in the middle of it.
The Huffington Post reports that there are a  "number of posts" referring to just how very public the relationship between Taylor Swift and Tom Hiddleston has unfolded especially on the heels of her split from Calvin Harris. It is like they are going out of their way to be noticed, especially with that tacky tank-top Hiddleston sported on the beach.
Conspiracy theory festers.
So why would Swift and Hiddleston stage a relationship? The conspiracy theorists believe this is all publicity for an up-and-coming music video from Swift.
One Twitter user suggested that this fake love affair will be a music video, but it will come with a "screw-you" message to the media. That would certainly explain the ease of picture taking the paparazzi found during her weekend bash. Hiddleston is an actor, so he is available for acting gigs!
That might explain why Swift has Hiddleston in tow where ever she seems to go lately and why she seems to be going overboard with her new love interest. It would also offer up an explanation why she is giving the paparazzi so many opportunities to snap photos of them kissing, hugging and frolicking in the surf. It would certainly explain Hiddleston's ludicrous and child-like way of declaring his love for Swift on a tank-top and tattoo. 
Swift .
Swift has certainly used her relationships before to pen hit songs, but that is usually once the relationship has ended and she pens a tune that is far from complementary to her ex! Her breakup tunes have been seen as a way for her to softly bash an ex.
Reports say the couple trekked to Rome, stopped by the U.K.
for Swift to meet Hiddleston's mother and flew to Nashville for Hiddleston to meet her parents. This is followed by their trip to her Rhode Island mansion with a large group of Swift's famous friends. Is all this traveling and non-stop posing nothing more than a music video in the making and if so, will it be a "screw you" to the media? Only time will tell!
Click to read more
and watch the video
or