Tamil movie 'Jackson Durai' Review, live audience response and collections
This was the movie that Sathyaraj fans have been waiting from a long time.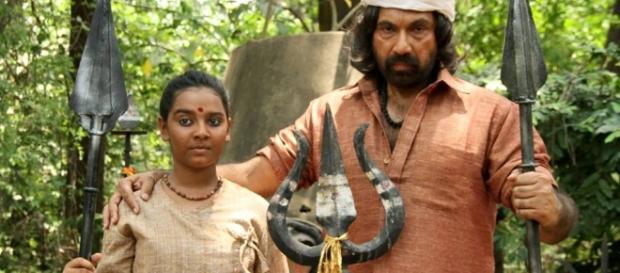 Jacksson Durai has reached the cinemas across India on Friday. It stars Satyaraj and Sibiraj in the lead.
With loads of humor and horror laced throughout the running time, this film has succeeded in impressing the audiences, and if theater reports are accurate, then this film is on its way of rising as the roaring hit for Sibi.
Dharani Dharam, who has previously crafted "Burma" in the past, has directed this movie. The director through this flick has portrayed his finesse in filmmaking and has paced both the halves of the flick in a fascinating mode.
This project from Green Productions showcases the story of the ghosts, and that too in a hilarious manner. One soul in this picture is an Indian, while the other spirit is a Britisher.
Their egos clash, tiffs, and fights form the major crux of the film, and it is being shown in an impeccable fashion by the filmmaker.
Sathyaraj has enacted the character of wraith from India in this project. American actor Zachary did the role of a foreign demon. In between this duo comes Motai Rajendra, another spirit which pulled the viewers to a state of laugh riot through his funny dialogue delivery.
Watch trailer:
With this role the actor has once again proved that he is one of the most versatile stars in Kollywood. He did a fine performance, and his acting skills do not have any wear of tear even though he is aged 61 now.
#JacksonDurai #Sathyaraj sir @Sibi_Sathyaraj @Dharanidharanpv @actorkaruna @itsyuvaa @ThenandalFilms @srigreen_pro pic.twitter.com/nmdGoITJ4I

— 3FS Entertainment (@the_3fs) June 21, 2016
Sibiraj's role had enough screen space, and his moments with Bindu Madavi offered sheer pleasure to the viewers.
Their onscreen chemistry was excellent, and both of them deserves a wide round of applause for this effort.
Devil's War Starts.. @Sibi_Sathyaraj 's #JacksonDurai to release in 300+ screens across TN on this Friday.. Jul 1st! pic.twitter.com/ZCzqivtf9a

— Ramesh (@rameshlaus) June 29, 2016
With less competition at the box-office this week, "JD" will strike gold without any doubts. This feature is filled with all those commercial elements needed to impress a common moviegoer, and the attendees will be glued to the screens for the 120 minutes of running time.
Since there are not any other big releases today, this outing is expected to do good earnings at the domestic and even overseas box-office.
Click to read more
and watch the video
or