Silicon Valley: Season 3 Episode 10 - "The Uptick" Review
This review contains spoilers for the final episode of Season 3 of 'Silicon Valley.'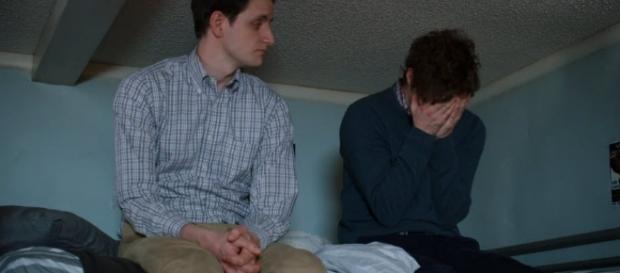 In the season finale of "Silicon Valley," Pied Piper's seemingly unavoidable demise was saved in a sudden reversal of fortune that has become part and parcel of the show's comedic formula. The season began on a relative positive note under the helm of CEO Jack Barker (Stephen Tobolowsky) in a bright new office and its own Japanese gardener. Pied Piper was seemingly headed for doom by the final episode. The previous episode had ended with the visual image of rows of people in front of computer screens, clicking away to provide fake users for the launched Pied Piper platform that was failing to gather daily active users.
Jared (Zach Woods) had hired the use of the Bangledeshi click-farm in an attempt to salvage the start-up. The uptick in users quickly caught the interest of venture capitalists who wanted to provide Pied Piper with series B funding following Jared's unethical and desperate tactic.
This presented Pied Piper's founder, Richard Hendricks (Thomas Middleditch), with a dilemma: should he commit fraud by accepting the financial backing that Erlich Bachman (T.J.Miller) had leveraged, knowing that the users were fake? Team-members Dinesh (Kumail Nanjiani) and Gilfoyle (Martin Starr) quickly deduced the use of a click-farm but nevertheless supported Richard's decision to accept the funding. Erlich remained oblivious until the end when Richard admits to Erlich and the venture capitalists that the users were fake. In the angry exchange that follows in the parking lot, Erlich is angrier at Richard for not being told the truth rather than from having the deal collapse. Erlich denounces Richard as a nearby Uber driver chimes in his assent.
Laurie Bream (Suzanne Cryer), the head of the capital management firm Raviga, forces a sale for Pied Piper because she wants to disassociate herself from any hint of fraud.
At the board meeting, it seems certain that Hooli CEO Gavin Belson (Matt Ross) will be the one to buy out Pied Piper. Board-member Monica (Amanda Crew) votes against the sale of Pied Piper out of a sense of principled loyalty to Richard and shared enmity against Belson but it seems all but certain that Belson has won the battle between Hooli and Pied Piper. Unexpectedly, Laurie reveals that Erlich has outbid Belson's one-million dollar bid by one dollar in the buyout.
Erlich's vicissitudes of fortune earlier in the season had paralleled Richard's later misfortunes. In earlier episodes, Erlich had formed a business partnership (Bachmanity, LLC) with Nelson "Bighead" Bigetti (Josh Brener) which fell through after spending all of Bighead's millions for the launch party. Bighead had earned this money from an employment severance agreement he made with Gavin Belson in the previous season. Later, their fortune returned when Erlich forced Belson to buy his sole remaining asset, a tech blog called Code/Rag, after threatening to expose the death of an elephant on Hooli premises.
Once again in possession of some money, Erlich had been compelled by Bighead to buy out Pied Piper because of the videoconferencing platform that Dinesh had been working on as a side project using Pied Piper's compression software.
Sometime during the episode, Bighead had commented to Richard on the quality of the video chat tool that Richard had been using when he comments that Hooli's video chat has improved significantly. Richard states that it is based off of Pied Piper's algorithms. It becomes obvious that Bighead has encouraged Erlich to purchase Pied Piper on the strength of the video chat's and its increasing user base, saving Pied Piper from Belson's grip. Although Erlich declares to Richard that it will require an undefined amount of time before he forgives Richard, the scene that quickly follows shows that Richard and Erlich are once again on good terms. Pied Piper will now be run under the leadership of Erlich and Bighead. With the end of the episode, the viewer will now have to wait until 2017 before "Silicon Valley" returns for a 4th season.
Click to read more
and watch the video
or