Selena Quintanilla gets Hollywood Walk of Fame Star at last
Many fans of the Tejano singer feel that the star on the Hollywood Walk of Fame is long overdue.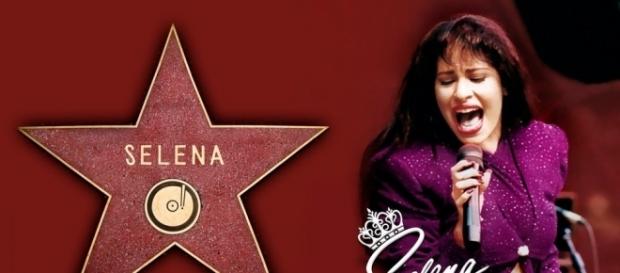 For the fans of the late popular Tejano singer Selena Quintanilla, this is certainly good news! The Latin artist is finally going to have a star on the Hollywood Walk of Fame.
Fans continue to mourn the talented artist
Just last March, Selena fans mourned her 21st death anniversary. At the age of 23, she met a tragic and untimely death at the hands of her fan club president, Yolanda Saldivar, in 1995. Selena Quintanilla, the Queen of Tejano, was highly accomplished with regard to her music career, as well as creative endeavors.
She was truly a multi-talented artist who showed the world what it meant to be Latin, but born in the U.S. It was truly challenging at the time, especially during the recession time.
On June 28, the Hollywood Chamber of Commerce announced that the 'Dreaming of You' singer would have her own star on the Hollywood Walk of Fame in 2017. This is to honor her and 33 other luminaries from television, motion pictures, radio, recording, and live theater.
MAC Cosmetics to release a Selena-inspired line
Even after her death over 21 years ago, Selena Quintanilla is still breaking barriers as one of the two recipients of posthumous awards -- the other one is composer Jerry Goldsmith -- to be given out in 2017. It is said that the posthumous award is given every year, and it seems that Selena is special that this is a deviation from the tradition. Therefore, this is a good year for all the fans because a Selena-inspired cosmetics line by MAC is going to be released as well.
Others schedule to receive a star along with Selena include Ryan Reynolds, Christ Pratt, Dwayne Johnson, Mark Ruffalo, Rita Wilson, Amy Adams, Goldie Hawn, Brett Ratner, Jason Bateman, as well as Tyra Banks, Eva Longoria, Wolfgang Puck, Lee Daniels, Hugh Laurie, Sarah Silverman, and Jeffrey Tambor, among others.
It can be recalled that the Queen of Tejano's death shocked everyone in the music industry and beyond, which drew 60,000 mourners to her funeral. In 1997, she was memorialized with a biopic that bears her name, staring the then relatively unknown Jennifer Lopez. The latter played her character in the 1997 film titled after her name, Selena.
Selena Quintanilla was a record breaker as a Latina singer in the U.S. with an incredible voice, who set fashion trends for years, an amazing performer, inspired many other performers, a wonderful role model, and a simply multi-talented lady.
Click to read more
and watch the video
or