Rita Ora shares picture of her in hospital
Rita Ora posts a picture of herself from her a hospital bed, she was taken to emergency room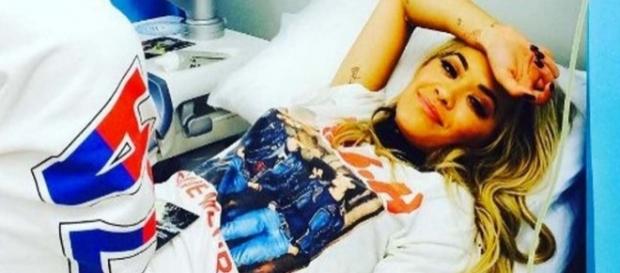 Rita Ora is a workaholic and is in hospital because of how hard she works. Today she posted a photo of herself in hospital on Instagram captioned "Today was pretty tough but I'm getting through it thank you to all of your for the support! I love you!! #exhaustionisreal".
Rita has been filming for 50 Shades of Grey movies
The photo shows her with an IV in her arm, trying to recharge and have some much needed rest. Ora has been working very hard travelling for the filming of the Fifty Shade of Grey sequels as well as partying hard as she always does.
The Instagram that she shared with her 9.5 million followers received comments of sympathy and good wishes from her loyal fans. A source close to the 'Body on Me' singer has said "She's completely exhausted, she hasn't had a break in months. She has been working solidly for the past few months then she parties whenever she gets the chance. She works hard and pays hard."
Part of her recovering time in hospital is probably caused by Glastonbury, which she attended last week before doing a 2 day ad shoot.
The 25-year-old has been all over the place recently, she has been in the UK for a festival, the US for recording and Canada for filming 50 Shades. A source confirmed Rita "flew to the UK for the trial and then went to Glastonbury. Most people have some time off after Glastonbury but she came back on Monday and shot a two-day ad campaign in London." This is not the first time Ora has overworked and had to be treated for exhaustion, back in 2013 she had to receive treatment for both heat exhaustion and dehydration.
Rita Ora's burglar goes to jail for 5 years
On top of all her work and play Rita has also had her personal life invaded when a burglar entered her £1.2 million pound home in London. 26-year-old Charaf Elmoudden broke into her house and stole £200,000 worth of items, he was caught by the police and has know been sentenced to five years in jail.
This is not the first time that Charaf Elmoudden has harassed Celebrities, he once tried to sell photos of knifed Rob Knox (Harry Potter actor).
Click to read more
and watch the video
or