'RHOBH' star Kim Richards claimed her pit bull was 'docile' prior to attack on stylist.
Kim Richards reportedly made shocking allegations in regard to her pit bull, Kingsley, before the animal reportedly attacked her former stylist.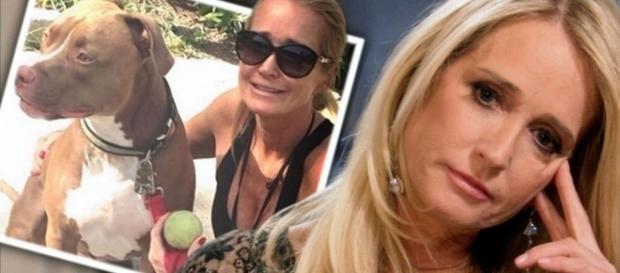 Does Kim Richards really think her pit bull is "docile?" According to a new report, the Real Housewives of Beverly Hills star assured her former stylist that her dog was not dangerous just moments before the animal attacked her. For the past couple of years, Richards' dog, Kingsley, has been making headlines for his multiple attacks, and Richards has faced a number of lawsuits. However, the fact that Kingsley has allegedly been involved in a whopping seven attacks doesn't seem to have garnered the expected reaction from the reality star.
Kim Richards thinks her dog is safe?
On July 11, All About The Real Housewives revealed details of the latest lawsuit filed against Kim Richards, claiming the reality star's former stylist, Paige Sanderson, had ran to the bathroom after seeing the dog in the home of Richards' younger sister, Kyle, where she was styling her for a Bravo scene.
However, after Richards reportedly assured her that Kingsley was "docile," she exited the room. Not only does Richards reportedly think her dog is safe, despite its past attacks on a trainer, an elderly woman and her own niece, her sister, whose daughter Alexia was attacked by the animal in November 2014, appears to agree. While most would assume Kyle wouldn't want Kingsley in her home after what he did to her child, she seemed to have had no problem with the animal being on the loose in her house as Richards was styled for the show.
Kim Richards' stylist lost portions of flesh during alleged pit bull attack.
"The dog lunged at her, bit and held on to her lower abdomen and crotch, tearing off her leggings and underwear and ripping out portions of flesh," court documents revealed. And after the attack, Richards reportedly refused to call for help until Sanderson agreed to say she was attacked by a "stray dog," not Kingsley.
Sanderson is suing both Kim Richards and Kyle Richards (because the attack to place at her Los Angeles home) and wants a settlement for "emotional distress, cosmetic surgery, and medical bills."
Click to read more
and watch the video
or