Red Hot Chili Peppers mistaken as Metallica at Belarus airport, autograph Metallica albums
Custom officials at the Belarus airport insist that the Red Hot Chili Pepper band members sign autographs and handed them Metallica albums and photos.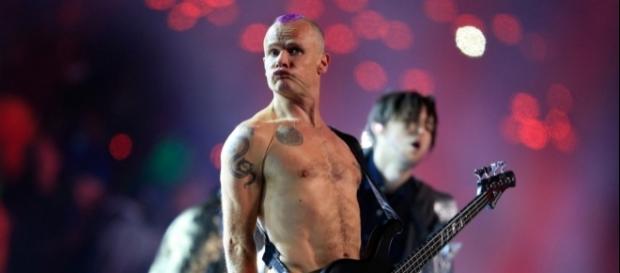 The Red Hot Chili Peppers signed autographs for custom agents at the airport in Belarus when one minor problem popped up. The custom agents were thinking that this group was Metallica. Besides that, everything went off without a hitch. Flea, the Red Hot Chili Peppers' bass player, said the custom officials wanted their autographs, which they were happy to do. Then they presented the band members with a Metallica album, a DVD and pictures of the members of Metallica band to sign. 
Sorry guys, we're not Metallica
While Flea and the rest of the group tried to explain they had the wrong band, they told them to sign anyway, so they did.
Flea posted a picture of him signing a Metallica album on his Instagram account. While Flea boosts how he did get to play a song once with the mega metal band they were mistaken for, he has to confess that he's not Robert Trujillo, who is the bass player for Metallica.
But the custom agents were still getting the autographs of one very iconic band, which is nothing to sneeze at!
Celebs mistaken for other celebs
This is certainly not the first mix-up in celebrities, they've even made a commercial out of how people tend to mistake one celebrity for another like Benicio del Toro. This actor is in a Heineken commercial with screaming fans believing he is Antonio Banderas. Even celebrities have made the mistake when introducing famous faces, like when Ellen DeGeneres mistook Carey Hart, who is P!nk's husband, for Blink 182 drummer Travis Barker.
Meryl Streep and Glenn Close are often mistaken for one another and they've gotten quite used to this. Other mix-ups that are frequently noted are Elizabeth Banks and Chelsea Handler, Selena Gomez and Lucy Hale, Timothy Olyphant and Josh Duhamel, Dylan McDermott and Dermot Mulroney, Zooey Deschanel and Katy Perry, and Nurse Jackie's Edie Falco and Ellen DeGeneres.
Metallica album now has Flea's autograph
The Red Hot Chili Peppers are currently touring in Europe promoting their new record The Getaway. They were travelling between Kiev and Moscow when they were asked for their Metallica autographs. At least the band got a kick out of it.
Way too much flesh showing here!
The Daily Mail reports that the band was actually called into the custom officials office in the Belarus airport where they were asked to sign their names on the Metallica merchandise. Check out what else the Red Hot Chili Peppers have been up to in the video below. There's a lot of flesh going on in this car!
Click to read more
and watch the video
or