Photos: Divyanka Tripathi-Vivek Dahiya wedding reception held in Bhopal
The stunning actress looked radiant throughout the three days of the marriage nuptuals.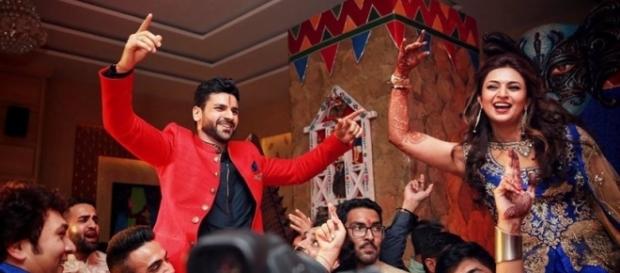 Divyanka Tripati, the 'Yeh Hei Mohabaten' beau got married with her love of life Viveek Dahiya on July 8, 2016.
Many Celebrities from Star Channel attended the ceremony with their spouses. Twitter was full of congratulatory messages for the twosome.
After pre-marriage events, the Dame had left her hometown, Bhopal to Mumbai where the preparations for the nuptials had already begun.
The tele heroine, who endeared the audience with her role in the serial, looked radiant and would have easily been the inspiration for any bride to be.
With her hands adorned with mehndi, the soon to be bride seemed resplendent in a gorgeous yellow lehenga-choli complemented with fabulous jewelry as part of the turmeric rituals.
The pair has been dubbed the most admired and good looking stars of Television and has succeeded in making a niche for themselves in the minds of their fans.
All the photos from the #DivyankaTripathi-#VivekDahiya wedding are in! https://t.co/tAviGPbmSQ

— MissMalini (@MissMalini) July 9, 2016
The duo became husband and wife on 8 July, and it was a traditional wedding, and the celebration will stretch through three days.
The duo was spotted at Bhopal airport. He looked striking in a denim and Tee while his lady love was ravishing in her blue and maroon salwar kameez.
.@Divyanka_T: I am the happiest bride on earthhttps://t.co/X2D1YN14nw pic.twitter.com/Lct8ooArIx

— IE entertainment (@ieEntertainment) July 9, 2016
The lady was in a great hurry but did not forget to give a big bear hug to her man and was seen blowing kisses to him while rushing to catch her flight.
The prenuptial glow could be clearly seen from her radiant face, and everyone is feeling so glad for the couple.
The adorable lass will go through the tilak ceremony, followed by Sangeet and the pre-nuptials on 8th.
Divyankaa did not share the place where they desire to go for their vacation, but Vivek indicated that they will go after a couple of days.
Divyanka Tripathi is pretty as a picture in these shots from her Haldi ceremonyhttps://t.co/nFS3Dsw48t pic.twitter.com/OYvxyY35ad

— India Today Showbiz (@Showbiz_IT) July 7, 2016
The marriage has been closely followed by the fourth estate and has become the most talked about event of the town.
Earlier the actress was given a warm send-off by the team of the daily soap.
.@Divyanka_T, @vivekdahiya08's Pre-wedding Pics Are Giving Us All New Relationship goalshttps://t.co/5jELIqrPrd pic.twitter.com/eVN240OKrk

— IE entertainment (@ieEntertainment) July 5, 2016
The damsel gave cards individually to each member and asked all to attend her marriage. The reception will be held on the 14th in a glitzy nightclub in the suburbs.
Click to read more
and watch the video
or