'Meredith McIver': Remember, Donald Trump is master of fictional entities
Donald Trump's 'McIver' entity might be a 'corporate scapegoat'. Here are the details.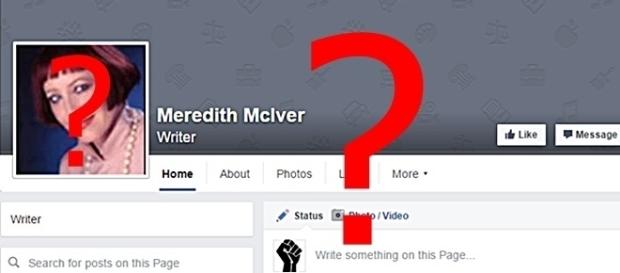 Is there nothing concrete about the idea of "Meredith McIver"?
In case you haven't heard, Donald and Melania Trump have come under serious plagiarism scrutiny after it was revealed that Melania had seemingly copied phrase-for-phrase from one of First Lady Michelle Obama's 2008 speeches.
Today, visually out of nowhere, this entity known as "Meredith McIver" appears on the scene with an apology statement on the Trumps' behalves.
Meredith's public apology
In case you haven't read the actual statement, here it is below.
As can be read, it appears that she's "milking" it quite a bit, no?
Here's Trump staffer Meredith McIver's explanation for how parts of Michelle Obama's '08 speech got into Melania's: pic.twitter.com/ji06OupAA6

— Amber Phillips (@byamberphillips) July 20, 2016
Essentially, she's taking the blame for all the plagiarized statements which came from Melania Trump's mouth during her speech.
However, nothing about Meredith's sudden appearance makes sense, right?
Although her public statement looks genuine, McIver's total online presence was created and uploaded on July 20.
Almost everything in this Meredith McIver profile, including pics, were added 15 hours ago: https://t.co/KtCoD8wsJH

— Laura (@SheWhoVotes) July 20, 2016
Meredith McIver memes
Since the idea of Donald Trump's "Meredith" figure arrived, social media users have been ripping into her in a similar manner as they have with Melania Trump.
If you're interested in a few, some are located below.
Meredith McIver lives in a small hut in the remote forest so do not attempt to contact her. #RNC #meredithmciver pic.twitter.com/otB1y2HO4w

— elizabeth valente (@EVunfiltered) July 20, 2016
BREAKING NEWS: First released and authenticated picture of Meredith McIver #MeredithMcIver pic.twitter.com/uT95dkeV3J

— Danielle Lile (@lileAmile) July 20, 2016
Is this Meredith McIver? pic.twitter.com/b24rPg6D8t

— Ben Greenman (@bengreenman) July 20, 2016
Of course, there are several others available via Twitter and other social media platforms.
However, you get the majority consensus regarding Meredith McIver.
Many think that McIver is about as fake as Trump's entity as a corporation. Surely, Donald has plenty of experience making up such non-existent persons, given the number of failed businesses he's set by the wayside, no?
Gawker provides a list of his failed businesses, if you're interested. Actually, several media outlets provide it. A simple search will do the trick.
All in all, McIver might be real
According to Washington Post, Meredith McIver is a real person and is really affiliated with the Trump family.
The source notes that Meredith has worked on a number of Donald's bestselling works of the past. However, she's not a part of his presidential campaign.
And, if that's the case, hiring McIver would be considered an illegal act for Trump's presidential nomination since she's an external party.
She exists!

Who is Meredith McIver, the Trump staffer who took the fall for Melania's speech? https://t.co/3pXYwZvsGD

— Cheryl G (@steakhousegirl) July 20, 2016
Overall, what are your thoughts regarding Meredith "I'm a real person" McIver? Feel free to share your comments in the section below.
**Antonio J. Newell is a writer for Blasting News. You can follow him via Twitter: @TonyBhaingz.**
Previous: Donald Trump accused of violating election law over Melania's speech
Next: Melania Trump lying about college degree, dropped out freshman year
Click to read more
and watch the video
or