Liv Tyler gives birth to baby girl
Liv Tyler gives birth to her third child, a girl who she has named Lula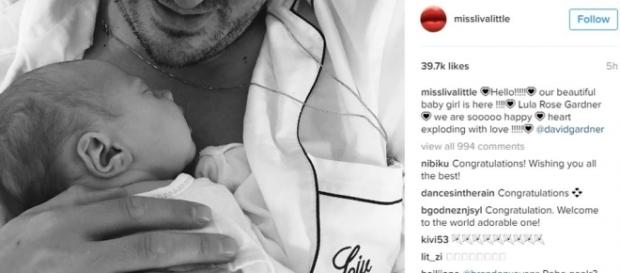 Liv Tyler posted a photo on Instagram announcing the birth of her third child, a baby girl that she has had with her football agent partner David Gardner. The Instagram photo is of the newborn laying against David's chest, she wrote "Hello!!! Our beautiful baby girl is here! Lula Rose Gardner. We are soo happy, heart explodig with love!"
David Gardner also posted about the newborn, he wrote "Our beautiful daughter Lula Rose Gardner is incredibly beautiful, healthy and – thank goodness- she looks like her Momma! Truly blessed...Now the real work starts training her big brothers to all become Ninjas, Martial Arts Experts & 24-7 bodyguards!!! @misslivalittle".
Liv Tyler and her partner both have children from previous partners
Lula Rose is the couple's second child together, they have a son called Sailor who was born in February of last year, and Tyler has a child from a previous relationship with Royston Langdon, 11 year old Milo.
David also has a child from a previous marriage, he has an eight year old son called Gray Gardner.
Liv and David first went public in 2014 which was at the same time that Liv confirmed she was pregnant.
The happy couple announced their engagement in September 2015 but it is thought that they actually got engaged around Christmas of 2014 when David popped the question in private. David Gardner is 40 and is one of David Beckham's closest friends and is linked to Kate Moss as she is the godmother of his son Gray.
Liv Tyler had pretty much been pregnant for two years straight
There wasn't much of a gap for Liv between Sailor and Lula, Liv commented saying she felt that the pregnancy was very long, "I have been pregnant for two years straight. It feels like forever". The couple live in New York but revealed that they have plans to spend more time in the UK, "We are back and forth. I am mostly in New York but spending a lot of time here (speaking about England). David's son is here and also his job. It's hard. It's beautiful. It is what it is. It's what we signed up for. It's an evolving thing. Next year we are going to be here for sure, for school, so the children can all be under one roof for at least one school year."
Click to read more
and watch the video
or