Last Week Tonight with John Oliver: Season 3 Episode 16 Recap
Oliver examines the reasons behind the Orlando tragedy and UK considering their big Brexit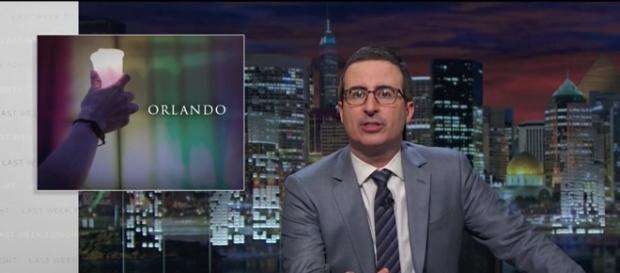 The issues in focus on this episode of Last Week Tonight with John Oliver bore substantial consequence to local and international affairs, but nothing prevents the maverick show and its self-deprecating host from telling it as it is. The introductory segments discussed the shooting at the Orlando nightclub and the influential powers of the NRA, while the main segment focused on the UK European Union membership referendum, known as Brexit.
The terrorism of ignorance
The events that unfolded on the night of June 12th, 2016, were truly shameful and tragic.
John Oliver tried his best to try and highlight the real problem in a situation that is brimming with idiocrasy – Gun control.
The iron fist of the NRA
The National Rifle Association is one of the most powerful lobby groups in the world and have held a tight control on the policy making in America.
Oliver proceeded to point out that the tight-knit group has managed to stay on top of gun control regulations for a very long time, simply by staying more organized and unified in the face of overwhelming adversities.
Some policies never change
Oliver did not shy away from taking on the behemoth organization, exposing various dubious schemes perpetrated by the NRA to control information and maintain a stranglehold on the very perception of owning arms. A discouraging clip featured during the episode even showed California representative Tony Cardenas unsuccessfully attempting to make a change to the Dickey amendment four days after the mass shootings in Orlando. Oliver rightfully pointed out that if we are unable to make constitutional changes even with a disaster fresh in our memories, change may possibly never come.
A misconception called Brexit
The debate on whether or not Britain should continue to operate within the European Union reached a crescendo during this episode, and Oliver decided to offer his unique, unadulterated opinions on the issue. He discussed the foundation of the movement and the principles which certain British ministers were basing their pro-Brexit argument on. It finally boiled down to reducing expenditure and immigrants in Great Britain, two problems that feel like they are straight out of the 80's.
Before you leave
Oliver and his band of merry researchers exposed the faulty claims made by British ministers who openly advertised that the money being contributed to the Union could be diverted towards health care, while simultaneously busting the myth surrounding the relationship between Brexit and the immigration crisis. The feature included several hilarious videos of several local citizens from UK speaking in such an ignorant manner regarding immigrants, that you nearly feel sorry for them, just nearly. He ended the segment by making a young boy and a group of backup singers perform a brilliant song that managed to summarize exactly how Britain really feels about the European Union. You can watch a piece of this hilarity here.
Click to read more
and watch the video
or