'Last week tonight with John Oliver': season 3 episode 15 recap
The targets include the Presidential candidates using social media, and financial investors who are secretly skimming from your savings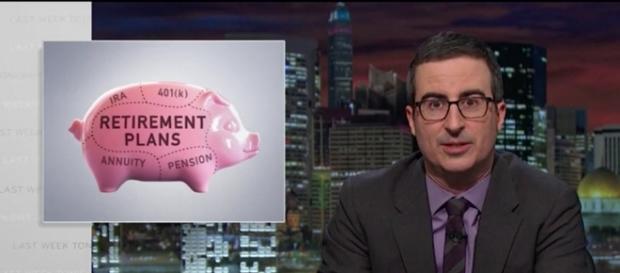 John Oliver has a flair for tackling dreary topics and making them engaging for audiences in order to highlight extremely relevant matters. He focuses this ability in this episode of Last week tonight to help us all understand exactly what financial consultants do and what we need to focus on while planning our retirement.
Real wars, Twitter wars
The episode began on a very muted note as the Orlando shooting had occurred just hours before the show aired on HBO.
Oliver pointed out that the attack occurred during a Latin night at a gay club in the theme park capital of the world, calling the venue and setting one of the greatest symbols of what it means to be American.
He went on to cover the news about Hilary Clinton becoming the Democratic presumptive nominee, but pointed out that she was clearly losing the fight to Donald Trump in the battle ground known as social media. Things began to heat up between Trump and Clinton on Twitter, and matters reached a tipping point when the presumptive nominee asked Trump to 'delete his account'.
Presidential candidates today clearly have a lot more to deal with when compared to the founding fathers, and not everyone is adept at tackling all mediums. Oliver was fairly disgusted with Presidential candidates stooping to name calling and resorting to running poorly conceived social media campaigns, and therefore created a special emoticon of 'Abraham Lincoln vomiting' for people to use in order to aptly represent the current election season.
Future plans set right
Oliver does not shy away from tackling topics that are sure to bore the average person simply because he knows his humor and wit are strong enough to hold most attention spans. He used his rare superpowers to bring to light the ignorance related to financial consultants and the process of planning one's retirement.
During this main segment, Oliver pointed out several vital facts that are sure to save every working person a substantial chunk of money while planning for their future. He differentiated between financial consultants and fiduciaries, noting that financial consultants are not legally obligated to think of our best interests, but fiduciaries are bound by the law to make the best financial decisions on our behalf. He urged people to look out for this difference while consulting with any organization and even engaged in a lengthy experiment to prove his point.
He revealed that the producers of the show tried to create 401 k accounts for their employees to better understand this process and the results were quite startling.
Apart from the various loopholes and safeguards that allowed financial institutions to dig into a healthy chunk of your savings in the long run, there were several basic errors committed on behalf of the broker sent by financial giant John Hancock, one of the mistakes nearly costing Oliver's producers $10 million.
Oliver created a mock television ad in order to help everyone better plan for their retirement, highlighting simple yet effective techniques that could save you heaps of money for your twilight years. You can catch the main segment of this episode here.
Click to read more
and watch the video
or