Johnny Depp sells multi-million Basquiat art because of divorce
Johnny Depp sells two Jean-Michel Basquiat paintings in London, due to pricey divorce to Amber Heard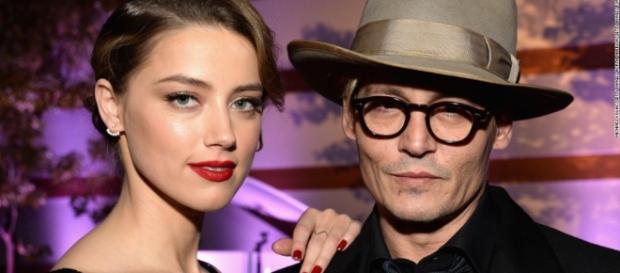 Johnny Depp recently sold two of his beloved Jean-Michel Basquiat paintings which sold for $11.5 million! The 'Pirates of the Caribbean' actor has 8 Jean-Michel Basquiat paintings all together and he recently sold two of the 8 at a London auction as part of the Christies' 250th anniversary. The other 6 are also up for auction but are yet to be bid for.
The first painting that was sold was Jean-Michel Basquiat's 1981 painting 'Pork' which sold for $6.8 million.
The second piece of art that Depp sold at the London auction was Basquiat's 1981 'Self Portrait' which sold for $4.7 million. Depp is a big fan of Basquiat's work, he has been collecting his art for 25 years and once described the "beautiful and disturbing music of his paintings, the cacophony of his silence that attacks our sense, will live far beyond our breath."
Johnny Depp having to sell up thanks to divorce
Depp's attendance at the auction was the first time that the actor has appeared in public since the drama of his divorce to young actress Amber Heard.
Johnny Depp has been going through a very lengthy divorce process with Amber Heard who is a 30-year-old American actress from Texas.
There has been lots of controversy surrounding the divorce as the 'Magic Mike XXL' actress was married to the actor for just one year before making claims of domestic abuse. Amber filed for and was granted a restraining order against Depp who denies the claims of abuse. Heard shared a photo on the internet of herself looking bruised and battered, claiming that it was Depp who has given her the injuries, and that he is often violent and angry due to his alcohol and drugs consumption.
Johnny Depp's ex demanding $50k per month as support
One of the reasons that Depp has been selling his expensive artworks is because the divorce is looking to be very pricey for Depp, Amber requested spousal support from Depp which would see her receive $50k per month over the course of eight months. Heard's request for spousal support raised a red light that she was after the actor's millions, but she has denied claims and said that it has nothing to do with his money and that all she wants is to be away from him and to feel safe again.
Click to read more
and watch the video
or