Joanna Krupa's lawsuit against Brandi Glanville just got a bit more awkward
Is Joanna Krupa going to have to prove she doesn't stink in a court of law?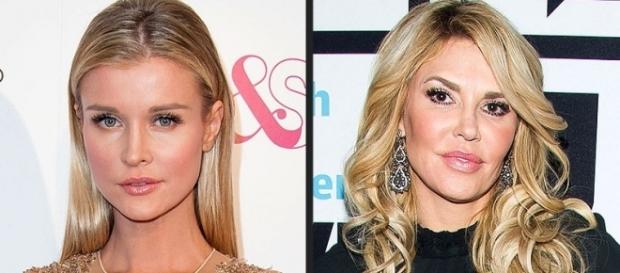 Joanna Krupa filed a lawsuit against Brandi Glanville in early 2015 after the former Real Housewives of Beverly Hills star accused her of having stinky private parts. Now, over one year later, the two women remain locked in a very awkward court battle. According to the latest report, shared by the Miami Herald on July 19, Krupa and Glanville's case is expected to be heard by Miami-Dade County Circuit Judge Jerald Badley next week and during the hearing, it will be determined whether or not Krupa should be forced to submit 16 years of medical records.
As Glanville fights to prove that Joanna Krupa does, in fact, suffer from vaginal odor, her attorneys in Jacksonville hope their request for "any and all" of Krupa's medical records since 2000 will help them prove that Glanville's allegations against her are true.
If so, they feel Krupa's slander lawsuit against Glanville could be thrown out.
Brandi Glanville took aim at Joanna Krupa during an episode of 'Watch What Happens Live'
Years ago, Glanville appeared on an episode of Andy Cohen's late night talk show on Bravo, Watch What Happens Live, where she made a number of allegations against Krupa, who starred on The Real Housewives of Miami until the show was canceled in 2013. In addition to claiming Krupa suffered from odor problems, Glanville claimed Krupa had engaged in an affair with Mohamed Hadid during his marriage to Yolanda Foster, the mother of his three children, Gigi, Bella and Anwar. 
According to Glanville, she was made aware of Joanna Krupa's rumored affair with Hadid, as well as her alleged odor troubles, by Mohamed Hadid himself. As fans of The Real Housewives of Beverly Hills will recall, Glanville was once extremely close friends with Hadid's longtime friend, Lisa Vanderpump.
Joanna Krupa doesn't intend to submit her medical records
So far in the case, Krupa has not offered up her medical records and her attorney claims the request is meant to harass his client. Joanna Krupa and Brandi Glanville's case will be heard by Judge Badley on July 25. No word yet on whether or not the former reality stars will be present during the hearing.
Click to read more
and watch the video
or