Game of Thrones: here's what the Mountain looks like under the helmet
A clear look at Game of Thrones' most fearsome member of the Kingsguard: Robert Strong aka The Mountain.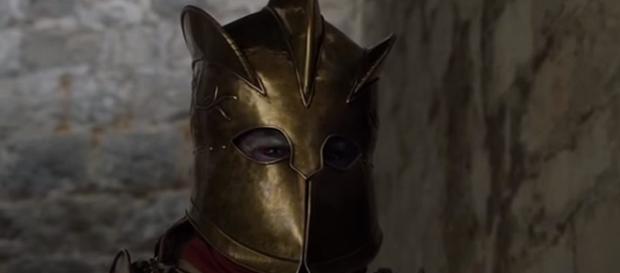 Game of Thrones: Icelandic actor Hafþór Júlíus Björnsson recently posted on Twitter a picture from the GOT set in which the fans can finally have a clear look at Robert Strong's face. As you can imagine, the picture of the Mountain's face is quite scary.
The Mountain under the helmet.
Are you ready? Here's the behind the scene photo posted by Hafþór Júlíus Björnsson on Twitter:
Behind the scenes... pic.twitter.com/TrbkM5FjDB

— Hafþór J Björnsson (@ThorBjornsson_) 15 luglio 2016
And here's what the Mountain looked like in GOT season 6 episode 10 (in a heavily brightened screencap):
Game of Thrones reveló el aspecto zombie de The Mountain y es espantoso (FOTO) >> https://t.co/ALxLNjSFN7 pic.twitter.com/manNGUPw2r

— CochinoPop (@CochinoPop) 29 giugno 2016
The Mountain and Ser Robert Strong.
Ser Gregor Clegane aka The Mountain fought Oberyn Martell, The Red Viper, at Tyrion Lannister's trial by combat.
Despite his size and incredible strength, Oberyn Martell demonstrates that he is clearly a better fighter than Gregor. Oberyn knocks The Mountain's helmet off and proceeds to slowly put ser Gregor down, all the while taunting him and asking him to confess the rape and murder of princess Elia Martell (Oberyn's sister).
Oberyn severely injures The Mountain but finally he is kept off guard. The Mountain pulls The Red Viper to the ground and kills him with his hands.
Oberyn applied a deadly venom on his spear before the fight: Ser Gregor dies in pain after the trial, but Qyburn with his dark knowledge manages to "revive" the fearsome Mountain.
About Hafþór J. Björnsson.
Hafþór Júlíus "Thor" Björnsson is an Icelandic strongman and actor. He began his career as a basketball player. He played as a center for the Icelandic team FSu Selfoss in 2007-2008, quitting his career after a knee injury. As a professional strongman, Hafþór J. Björnsson collected dozens of remarkable awards, including the Europe's Strongest Man title, two victories in the Strongman Champions League, a lot of first places in Icelandic Strongest Man contests as well as some great results in the World's Strongest Man and Arnold Strongman Classic events.
Björnsson also beat a thousand-year-old record carrying a 650 kg log for 5 steps.
Game of Thrones' ser Gregor Clegane role was his first main acting role in a television show.
Click to read more
and watch the video
or