Dragon Ball Super: Android 18 the sexiest character of the entire series?
Let's analyze some features and facts about the hottest character in the series.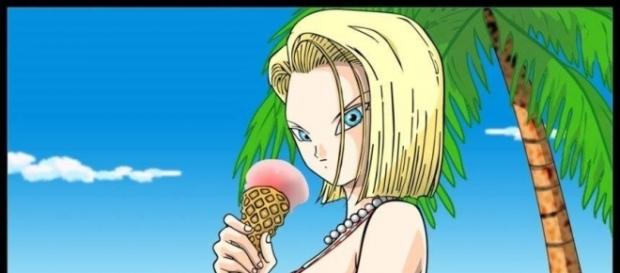 Blonde, perfect body, blue eyes, and a sexy look are not the only things android 18 has in order to make her one of the most interesting characters of the serie. Now, we are going to analyze some cool facts about the sexiest character of the series. Enjoy!
Android, the kisser
After Chi-Chi kissed Goku before they got married, Android 18 became the second girl in the serie that kissed a man she got married to later: Krillin.  
Krillin and Android 18 homeless
When the happy couple got married, they had no place to live.
So, they had to live with Master Roshi. Then, after Android made a deal with Mister Satan and she left him win, she received the money to move to another house.
Android, the mother
Many ask how Android 18 could give birth to a child if she's an android.
Some even think Marron might have been adopted. The truth is that she is not a robot but an android with human features. In following notes, we are going to analyze and try to give you more information about this fact.
Meeting Goku  
Although she was built to face Goku, she never had the chance to meet him in the first saga that she appeared in because he got diagnosed with severe heart problems. Finally, she met him seven years later at a tournament.
Krillin the lover, but not the first one
At first she felt a complete rejection to Krillin. She probably had some time to meet other warriors before she discovered the true love Krillin could offer. Finally, she decided to give him a chance.
Android, the housewife
In Dragon Ball GT she was a warrior as well as the other male characters. Nevertheless, after that saga and especially after she gave birth to Marron, she was completely destined to become a housewife and take care of her daughter and silly husband Krillin. So, after all this, what do you people think about it? Is Android 18 the sexiest and the coolest character of the series? Is Krillin the one who deserves her? Comment down below and let us know if it's so or if there's another character you would like us to review.
Click to read more
and watch the video
or