Did Andrea Tantaros hint to 'disappointment' in Donald Trump's VP pick?
There's no doubt about it, Fox News should have Andrea Tantaros at the RNC today, as it seems she has some opinions her viewers need to hear!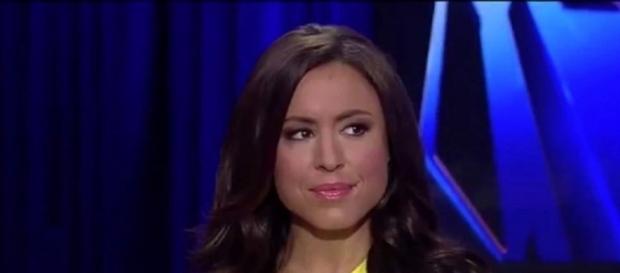 Political analyst Andrea Tantaros is missing from the Fox News coverage of the Republican National Convention, which is in full swing today. This is a place where Tantaros would shine because she has a talent for putting today's strange politics into perspective for the masses. While Fox reported months ago that she is still under contract with their network, they haven't utilized her highly respected talent since she abruptly disappeared from Fox in April.
Andrea hints to VP disappointment?
Tantaros recently took to Twitter to reveal a few hints about her thoughts on Donald Trump's choice of a vice president running mate, which might surprise the people who followed Andrea on the Fox News show Outnumbered.
Trump was originally going to reveal his pick last Friday, but he put the official announcement on hold. It was reported that Trump did this out of respect for the people in Nice, France, after the horrendous truck attack, but some thought he put off the announcement because he had second thoughts.
He announced Mike Pence as his pick over the weekend.
The first hint to suggest how Tantaros felt about Trump's choice came when she posted the headline of an article in a tweet from Reuters, which reported that Trump was likely to make his announcement about his choice of a running mate before the convention.  Andrea wrote, "Can't it wait til Monday? There's only so much disappointment one can handle from one campaign in a week." At this point in time it had been all but officially stamped that Trump picked Mike Pence as his running mate, but it sounds as if Andrea may not agree with that pick? 
The second hint Andrea sent out was once again on Twitter. CNN's Dana Bash tweeted how Trump had asked his "top aides" on Thursday night if he could change his mind and get out of picking Pence. Andrea posted this tweet and simply wrote, "He should have." 
Trump 'should have' 
According to CNN News, Donald Trump hashed over changing his decision on Thursday night, as he changed his mind about his VP pick.
This is the tweet that Andrea came across and posted on her Twitter page and then suggested that he "should have" changed his mind.
Scoop: @realDonaldTrump was so unsure about @mike_pence that around midnight last night he asked top aides if he could get out of it

— Dana Bash (@DanaBashCNN) July 15, 2016
Didn't follow his gut
News Max suggests that some people believe Trump didn't go with his gut and if he had it would have been Chris Christie. But at the time Trump changed his mind, Pence had already been asked and he was already in New York in a hotel room believing he was Trump's pick for VP. Pence had backed out of his plans for re-election in his state, so a lot was riding on this announcement for Pence. Changing his mind on such an important decision probably would not have fared well for Trump. The GOP candidate would have looked indecisive and people could have accused him of playing with people's lives after having Pence ready and waiting.
Trump-Christie ticket?  
Sadly, there is no way to ask Tantaros her thoughts behind these comments and why she doesn't appear to see Pence as the right running mate for Trump.
For all of those who have followed Andrea on Fox over the years, you might have an idea as to why she would sound disappointed in Trump's pick. It may be for the same unknown reason that Trump had for wanting to change his mind before the official announcement was made. Just maybe Trump changing his mind was another reason behind the delay in the official announcement besides the Nice, France, tragedy?
There's no doubt about a Trump-Christie ticket being a powerhouse once getting into the White House, but perhaps that same ticket wouldn't have done so well on the campaign trail because the two men are so similar in their attack-dog tactics. Pence will most likely appeal to the more conventional voters and Trump has to be elected president for anyone to serve as his vice president. This might have been the thought around the Pence pick, appealing to a different group of voters. Maybe Trump's hands were tied? This is the stuff folks look to Tantaros to decipher, she is really missed among her fans.
Click to read more
and watch the video
or