Cream Rocker Ginger Baker undergoes open heart surgery
Ginger Baker, Cream drummer and co-founder recovering from major heart operation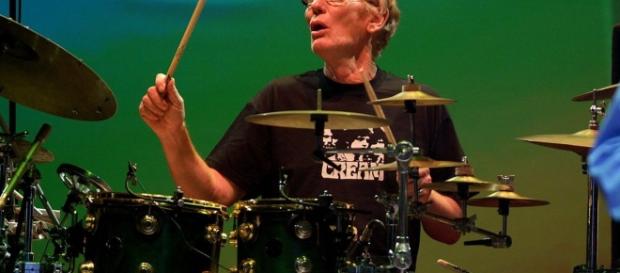 Legendary rocker Ginger Baker of the 60's band Cream has undergone a scary surgery. The 76-year-old drummer underwent a series open heart surgery just a couple of days ago and is reported as to be doing "okay."
Cream drummer Ginger Baker's recovery from open heart surgery.
Baker revealed to fans last February that he would be undergoing a heart surgery following an undisclosed, but major heart condition. Following his announcement, Baker also suffered a nasty fall that left him recovering from injuries.
The health conditions put a stop to Baker's plans for touring with his current band Air Force 3.
Ginger's daughter Leda updated fans by posting on her father's official website writing that other than her dad suffering from some grogginess and disorientation he is "miraculously recovering well." Baker has been battling health issues since 2013.
In an interview with Rolling Stone, Baker stated he was suffering from major health issues. Baker also shared that at the end of a concert he is left completely exhausted. The rocker also reveals he is suffering from painful degenerative osteoarthritis along with COPD brught on by many years of smoking.
Cream responsible for influencing major rock bands.
Ginger Baker began playing the drums at age 15. In 1966 he co-founded the rock band Cream with Eric Clapton. Known for his amazing drum solos, he is best known for his solo on Cream's hit "Toad." Cream members consisted of singer/bassist Jack Bruce (deceased), Eric Clapton and Baker.
Inducted into Hall of Fame.
Cream is best known worldwide fr their hits, "I Feel Free," "Sunshine of Your Love" and "Crossrads" to name a mere few. The band's unique musical style is said to have played a major role in influencing popular rock bands to come such as Rush, Led Zeppelin, Deep Purple and Black Sabbath.
Cream was inducted into the Rock and Roll Hall of Fame in 1993.
Recovery going well.
Once again great news to hear that Ginger Baker's recovery is going well.We are wishing him a full and speedy recovery in hopes that he may soon get back to doing one of the things he loves most, making music. Get well soon Mr. Baker, we hope to see you back at it in the very near future!
Click to read more
and watch the video
or