Britney Spears in steamy new video
Britney Spears gives fans a sneak preview of her new single 'Private Show' and shows off her hot bod in perfume ad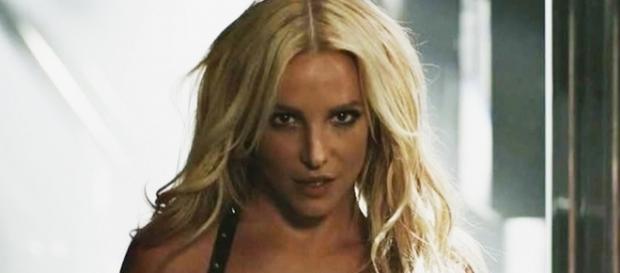 Britney Spears has surprised us again, and this time with a raunchy clip for the video of her new song and perfume 'Private Show'. The 16 second clip shows the fit blonde dancing provocatively in a dim room wearing a very revealing and skimpy monokini. The 34-year-old 'Toxic' singer has just brought out a new perfume which she has given the same name as her new single which is to be released soon.
Britney promotes both her new perfume and her new single with sexy video
Britney has killed two birds with one stone, promoting her two new products at the same time, the steamy video is primarily to promote her new fragrance but at the end of the clip she teases fans with a snippet of what sounds like a brand new song, apparently called 'Private Show'.
The video she was posted on Instagram and she wrote "Stay tuned...#PrivateShow #TakeABow 'britneyspearsfragrances."
Britney Spears's new perfume has hints of coffee, fruit and caramel
The famous star had already released a photo of her new perfume on her BritneySpearsFragrances Instagram page last week, she posted a picture of her holding the bottle and captioned the post "With its diamond-shaped bottle and fragrance notes of whipped crème coffee and nectarine, Private Show @britneyspears is truly an irresistible fragrance. Thank you beauty guru @Fleurdeforce for this beautiful shot. #PrivateShow #BritneySpears #TakeABow." The fragrance apparently also contains hints of Clementine, white florals and dulce de leche.
At the beginning of the video you see Britney strut in heels, wearing a lace gown, which she soon slips off and throws to the ground before twirling and showing off her toned and slimmed down body and sexily turning on a power switch.
Britney Spears soon releasing first new single of her upcoming album
The new single was due to be released back in May but its release was delayed to the summer. 'Private Show' will be the singer's first track release since her hit with Iggy Azalea called 'Pretty Girls' which was released in 2015. Britney has said that it is one of her best works and claims "Private Show celebrates one of my biggest passions-dancing! It is inspired by the electric energy I feel when I'm performing, whether during rehearsals or on-stage during my show."
Bravo Media was told be G-Eazy that fans can look forward to a collaboration with Britney, he told the reporter "I feature on Britney's comeback single 'Make Me Oooh.' But we haven't filmed the video yet because we're both so busy."
Click to read more
and watch the video
or