Anna Kendrick wants to play Marvel's Squirrel Girl
Pitch Perfect alum wants to play the unlikely Marvel superhero Squirrel Girl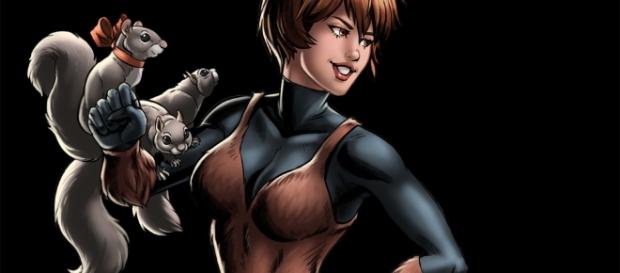 It seems that Anna Kendrick has indeed rose to fame, and it would not stop especially if she lands in the role of Marvel's Squirrel Girl. If the Pitch Perfect alum is indeed going to be this unlikely heroine of the Marvel Universe, a solo film about this character for its Phase Three might not be bad.
Marvel Universe Could Certainly do Worse than Anna Kendrick.
The 30-year-old star from Portland is very open to the idea of playing this particular and less known superhero on the silver screen.
When asked by Net-a-Porter what marvel superhero she would like to play, she said that her brother has given her a Squirrel Girl comic book simply because he thinks that she should play the character.
She mentioned that she does not know what the heroine does other than being half squirrel, but she claimed that she could be half squirrel.
Squirrel Girl's Nature and Abilities.
To know about this rather not so known heroine, Anna Kendrick should take note of the character's nature and abilities before donning the role. In the comic book, Squirrel Girl is Doreen Green. She is a nature-loving LA native who defeats villain Thanos of the Guardian of the Galaxy and Doctor Doom, Iron Man's nemesis. Green relocates to the Big Apple to keep Central Park safe. The small and dainty high schooler is furnished with super strength, reflexes, and speed as well as healing abilities, a bushy tail, a love of nuts, and, of course, the ability to communicate with squirrels.
Squirrel Girl has an empathic bond with squirrels, and therefore, she can communicate with these furry critters.
She has squirrel-like features like small claws as well as enlarged incisors.
Later, she has become a part of the Great Lakes Avengers, which is the Midwestern branch of the Avengers.
Potential Film for Marvel Universe's Phase Three
After Anna Kendrick's comments regarding Squirrel Girl, the netizens reacted accordingly. An artist even made key art for the character's potential film. In the image posted by @Bosslogic, Kendrick is portrayed as the Squirrel Girl, holding a squirrel in each hand, with a bushy tail, squirrel ears, and the matching spandex like any other Marvel superheroes. Also, in the picture, she is surrounded by her furry critter friends.
Needless to say, the Mike and Dave Need Wedding Dates star is going to be pretty interesting to watch if she ever does get to play Squirrel Girl. In the meantime, Marvel Studio is still going to decide what potential franchise is going to be added to its Phase Three plans. Regardless of the studio's decision, fans believe that Anna Kendrick could certainly pull it off as the superhero.
Click to read more
and watch the video
or