A look back at the heartwarming family film, "Black Nativity"
A review of the film, complete with spoilers, and the reason why you should sit the family down to watch it.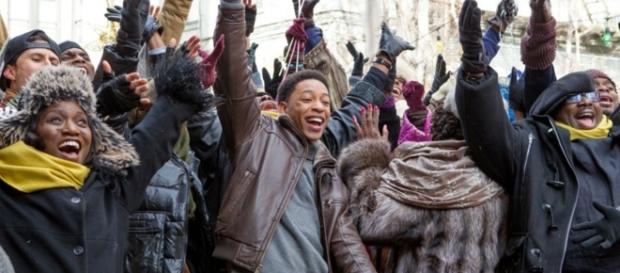 In 2013, a little known movie came out called Black Nativity. It was based off of a Langston Hughes gospel play of the same name. Here's a look back at the cast and the story, in all of its glory. Caution: Spoilers to follow.
A complicated story
The film featured an all-star musical cast and focused on one family, juxtaposed with the story of the birth of Jesus Christ. The story begins with Naima (Jennifer Hudson), a single mom trying to make it in New York.
She's on her own since becoming estranged from her family and her teenage son, Langston (Jacob Latimore), is unaware why, but he embarks on what seems to be a simple trip and ends up discovering his spirituality and the truth about his family.
As the story goes, Naima is having financial trouble so she's forced to do the one thing she doesn't want to do. She has to send her son to stay with her pious and judgmental preacher father (Forrest Whitaker) and mother (Angela Bassett). From there the story moves to Langston's perspective.
The teenager doesn't know much about his grandparents except that they are extremely strict and every time they bring up his mother, the family either responds angrily or avoids the subject all together. Tension is also added as his grandfather, Reverend Cornell Cobbs, treats him like a common street hoodlum, even though that couldn't be further from the truth.
Throughout the story, Langston goes in and out of states of reality. He hallucinates visions of a pregnant woman on the street being the mother of God, sees an Angel (Mary J. Blidge), and he continuously runs into a mysterious man known only as Loot (Tyrese Gibson).
Black Nativity (Extended Musical Edition) - Kasi Lemmons | Drama... #Drama https://t.co/UqlOpzgG6g #Drama

— *Tina* (@dancintina) June 8, 2016
When Naima is unfairly kicked out of her apartment, things come to a head. Langston discovers that as much as his grandparents bashed Naima, the situation that she found herself in was not her fault. (Before reading further: Huge spoiler coming up. Proceed with caution).
It turns out that the good reverend bribed Loot, who is actually Langston's father, to stay away from Naima. As a result, Naima had to do everything alone with the additional burden of taking care of Langston.  
Why the movie was good
Apart from the story, the film featured some powerhouse voices. There were great performances by Jennifer Hudson, Mary J. Blidge and newcomer Jacob Latimore. Nas was even cast as, believe it or not, the rapping prophet Isaiah. Needless to say, the Nas' character was a bit of a stretch. Besides that, it was beautiful that as Langston was learning about the beauty of the birth of Christ, he was also learning about the hypocrisy of his grandparents.
Like all gospel plays or Movies, there's a feel good ending. Naima, her family and Loot eventually resolve their problems and she is welcomed back into the fold. The only problem with the ending is that Naima got the short end of the stick the entire movie and it's resolved with a simple "sorry". Sorry doesn't change what she went through and while this story may be about forgiveness, it still seems unfair. Even if her parents had bribed her landlords, it's seems like they got off kind of light. Of course since the family's dirty laundry was aired out in front of the entire church, the church got to see forgiveness firsthand. The only reason why this ending worked was because her parents were sincerely remorseful, but if this were real life, this probably wouldn't be the case. Then again, since when do the movies mimic real life?
All in all, it's good family fun. It teaches religious values to the hip hop and gospel community and there are few films that can claim that. If you're in the Boston, Massachusetts area around Christmas time, then you have a special treat. The Tremont Temple has put on a production of the play annually since 1969. If you can't make it there, by all means rent the film.
Click to read more
and watch the video
or