Teenage Mutant Ninja Turtles: Bebop And Rocksteady Destroy Everything #3 — recap & review
IDW Publishing also releases TMNT #59 and several new Walt Disney comics on June 15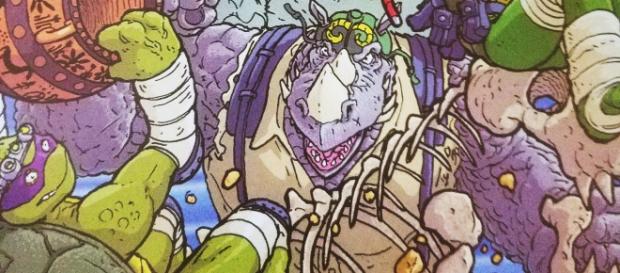 IDW Publishing capitalizes on both Teenage Mutant Ninja Turtles: Out of the Shadows and the new Ghostbusters currently in theaters with their comic book releases this week. The reptiles are featured in two new magazines this week, including Teenage Mutant Ninja Turtles #59 and TMNT: Bebop and Rocksteady Destroy Everything #3. While it doesn't feature four female ghoul-fighters, a Ghostbusters: Who You Gonna Call? TP also comes out June 15.
Japanese cinematic icon Godzilla is featured in two TPs from IDW this week, Godzilla: Complete Rulers of Earth, Volume 1 and Godzilla: Treasury Edition.
Cartoon giant Disney brings Mickey Mouse: Timeless Tales, Volume 1 and Walt Disney's Comics And Stories #732. Back from the 80s, Strawberry Shortcake #3 and My Little Pony: Friendship is Magic #43 drop today, while Sci-Fi enthusiasts are treated to Back To The Future: Citizen Brown #2, Transformers: Till All Are One #1 and X-Files: Season 11, Volume 2. 
A quick recap and review of Teenage Mutant Ninja Turtles: Bebop and Rocksteady Destroy Everything #3 follows, as well as a full list of new comics and titles released by IDW Publishing on June 15.
TMNT: Bebop & Rocksteady Destroy Everything #3 by IDW, 6/15! #NewComics #TMNT #Bebop #Rocksteady @IDWPublishing #IDW pic.twitter.com/qJtCN9LFDv

— Dustin Murrell (@otheaudacity) June 15, 2016
TMNT: Bebop and Rocksteady Destroy Everything #3 (Mature, $3.99)
If you haven't been keeping up, Bebop and Rocksteady Destroy Everything is a 5-part series being released over the course of 5 weeks. It's a fantastic Teenage Mutant Ninja Turtles story that focuses on two of the most important sidekicks in TMNT: Out of the Shadows, portrayed by Gary Anthony Williams (Bebop) and WWE's Sheamus (Rocksteady) on the silver screen. They managed to get their hands on a scepter that allows them to travel through time and space, which leads to all sorts of chaos thanks to the story's utilization of the Butterfly Effect Theory. 
In last week's book, they recounted the origin story of Bebop and Rocksteady as humans-turned-mutants, and this week we saw the same for the Turtles and Splinter.
As they tried to give the Mutagen to their pre-mutated selves, the Turtles show up (thanks to Time Master friend Renet), resulting in the apparent death of Splinter in 2012 and the mutation of April O'Neil. After 'Bop and 'Steady start throwing random monsters and mutants down equally random time portals, Renet ends the book by telling the Turtles they must go to the 79th Dimension, the only place that exists outside of time.
This is one of my favorite current comics, and for someone who prefers to binge my favorite TV shows rather than waiting it out, I like that this series comes out once a week instead of once a month. As a 33-year-old, I feel as though it stays true to the characters I grew up watching on the cartoon, but the story remains relevant enough that I don't feel childish reading it. If you like time travel theory, this is right up there with Back to the Future and Butterfly Effect. Bonus: Slash makes an appearance in this book.
New releases from IDW Publishing for June 15:
Back To The Future: Citizen Brown #2 (Of 5)
Dungeons And Dragons #2 (Of 5)
Ghostbusters: Who Ya Gonna Call TP
Godzilla: Complete Rulers Of Earth, Volume 1 TP
Godzilla: Treasury Edition TP
Judge Dredd: Mega-City, Zero Volume 1 TP
Luna The Vampire, Volume 1: Grumpy Space TP
Mickey Mouse: Timeless Tales, Volume 1 TP
My Little Pony: Friendship Is Magic #43
My Little Pony: Omnibus, Volume 3 TP
October Faction #17
Strawberry Shortcake #3
Tales From The Darkside #1
Teenage Mutant Ninja Turtles #59
Teenage Mutant Ninja Turtles: Bebop And Rocksteady Destroy Everything #3
Transformers #54
Transformers: Till All Are One #1
Walt Disney's Comics And Stories #732
X-Files: Season 11, Volume 2 HC
Click to read more
and watch the video
or