Tamil Movie 'Amma Kanakku' Review and Live Audience Response
The mother and daughter story was earlier made in Bollywood, now remade for the Tamil public.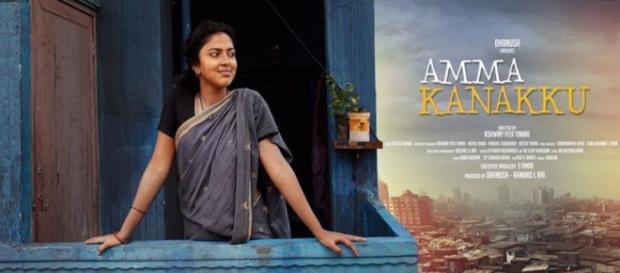 Ashwini Tiwari's new directorial venture "Amma Kanakku" has reached the screens on June 24, 2016. This outing which is the Tamil remake of an acclaimed Bollywood flick has been opened to packed houses in all corners of Tamil Nadu; thanks to the decent pre-release hype created by Dhanush's Wanderbar Films.
The movie which showcased a heartwarming story between a mother and daughter has reportedly impressed audiences of all genres, and if it succeeds in getting good word of mouth publicity, chances of emerging as a sleeper hit in the box-office are quite high.
Amala Paul, known for portraying glamorous roles on screen has portrayed a very different character in the flick. She is seen in the role of a matured mom in the feature and has done full justice to her character.
In this project, we can see a tenth standard student who is brilliant in her studies. But, she does not have huge dreams, as her mom is doing household works for others to earn the money for her education.
Soon, the teenage girl realizes that higher schooling is meant for the elite class people in the society. Realizing this, her mother encourages her, and she enrolls in the school to provide her that extra morale.
Watch Trailer:
The young lady filmmaker has crafted the tale in such a way that it will touch the hearts of all people who love their parents.
The proceedings are so realistic in nature, and there is absolutely no excess melodrama in the course. We can relate most of the scenes to ourselves, and this is the major highlight of this small yet elegant film.
#AmmaKanakku got great reviews from Press show. Go watch it for @Amala_ams performance. pic.twitter.com/SXHi8sa7pu

— Maheshkumar Ramasamy (@Maheece) June 22, 2016
Almost all the viewers were seen coming out from the hall with wet eyes, and this clearly indicates that Ashwin has hit the Bull's Eye in style.
With that uncompromising filmmaking style, she has delivered a real gem of a film.
This cinema is not a 100% commercial entertainer, but it is a small movie with a big message.
Saw my 100th film of 2016 ( all languages) -#AmmaKanakku y'day at a press screening. Neat film, @Amala_ams rocks. pic.twitter.com/TFgxciUOLF

— Sreedhar Pillai (@sri50) June 21, 2016
This show will be remembered for the exceptional performance from the lead actress, Amla, and you can book the tickets without any hesitation to see her mind blowing acting excellence
Click to read more
and watch the video
or