Photos: Mandira Bedi posts 'sexy bikini saree' pictures from Maldives.
The Indian model spent some quality time holidaying with family in Maldives.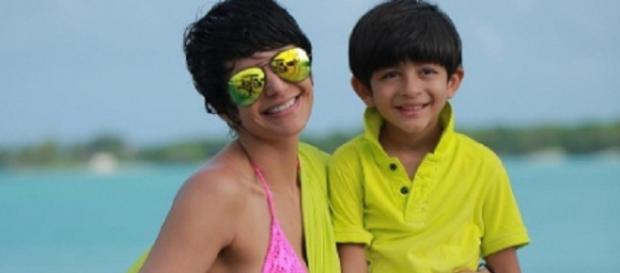 Maldives is slowly turning out to be the most favorite tourist destination for Bollywood couples, remember the moments spent by Shahid-Mira and Bipasha-Grover on this beautiful island.
The recent addition to this celebrity list is none other than the ravishing Mandira Bedi. The beautiful actress is now vacationing in Maldives along with Raj Kaushal, her better half, and their son. 
From the very first day of her vacation, the actress has been uploading various pictures on Instagram from her trip.
Mandira, who is very much active on social networking sites, did not disappoint this time too, as she shared some scorching pictures in which she was seen wearing saree in a different manner. 
We have not seen anyone wearing saree this way.
She just covered her seducing bikini curves by rolling it in a saree, and that is all. Through this new style,
Bedi successfully broke all traditional concepts which prevail in Indian mind when thinking about wearing a saree.
The ravishing beauty along with her spouse is staying at the luxurious Hideaway Beach Resort, and she has reportedly engaged in various sporting ventures like snorkeling and speed boating. 
Selfie-time any where, any time at the beautiful @hideaway_beach #maldives #saltbymandira #nofilter pic.twitter.com/oksASLBXhc

— mandira bedi (@mandybedi) June 3, 2016
In all the photos shared, Mandera looked extremely sexy even though she is 44 now. The superhot star through her recently shared snaps has taken social media to a state of fire, as her fans are sharing all these bold pictures on Facebook, Twitter, and Instagram. 
What a lovely holiday it's been!! Thank you @hideaway_beach #Maldives #bluesea #paradise #purebliss #Blessed pic.twitter.com/AIX9vPYsth

— mandira bedi (@mandybedi) June 5, 2016
Mandira is undeniably one of the most fashionable stars in the Entertainment Industry of India.
She turned a designer two years back, and this fashion advancement was seen evident in her dressing. The mini saree which wore during the vacation trip is a part of her "Salt" collection. 
From my Suite to the pool. And from the pool into the Indian Ocean! 💦 #splash #Maldives @hideaway_beach pic.twitter.com/OHmQ2qA2US

— mandira bedi (@mandybedi) June 5, 2016
This clothing material is so flexible in nature, and it can be wrapped, flipped and swirled as you wish. 
Bedi was last seen in Anil Kapoor's TV series '24'. She is currently more concentrating on designing career rather than acting in serials and films. 
In 2013, she started her own Sari stores in India.
Click to read more
and watch the video
or