Photos and Video: Smriti Irani leads Yoga Day celebrations in Bhopal
70 Indian Ministers reached various cities while HRD Minister Irani was in MP State.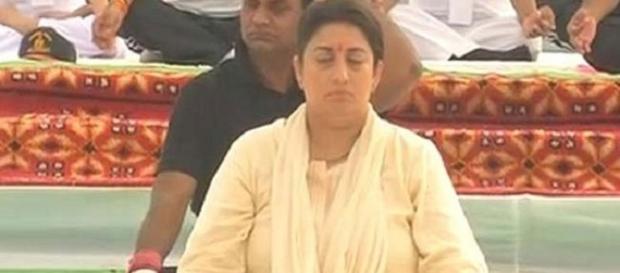 More than 180 nations celebrated International Yoga Day on June 21, 2016. India led the auspicious event, and in the country, many prominent personalities attended the mass sessions in various states.
The Indian PM Narendra Modi initiated the proceedings in Chandigarh, while HRD Minister Smruti Iraani preceded the event in Bhopal.
During the commencement of the ceremony, Smreti said that the Yoga Festival has completed its purpose, and it has triumphantly created a bond between ancient India and the contemporary world.
Nearly thousand people were present to observe the meditation day.In her speech, she also communicated her wishes to the Madhya Pradesh Govt for planning the ceremony in such an impeccable style.
She also lauded Modi for restoring this historic Indian bodily routine in front of the Global public. She also advised parents and teachers to teach this beneficial exercise to their kids.
MP State Secretary Babalal Gaur while his speech revealed that he practices Yoga despite his fractured leg. He added that reciting the Bhagawat Geeta and doing this spiritual workout has become part of his day.
Many from the minority category have recently expressed their concerns to chant the word "Om" during the time of activity.
To combat this issue, he suggested them to follow the solution put forward by Baba Ramadev.
Gaur urged them to use "Amen" if they can't chant "Oom." He assured that doing Yoga regularly, will bring many positive impacts on our health, both physical and mental.
Celebrated #YogaDay with people of Bhopal #IDY2016 pic.twitter.com/D1141dq0ig

— Smriti Z Irani (@smritiirani) June 21, 2016
On the other hand, the Communist Party triggered yet another controversy in the midst of Yoga observance.
The Health in-charge of Kerala, K Shaileja reprimanded the officials for introducing Kirthanam before commencing the session.
During the prayer, she sat negligently, and it fetched adverse criticisms from all corners.
Numerous residents in Kerala claim that Shailaja has done a deed like this to please the minority population who have executed a pivotal role in her party's mammoth victory in the lately concluded polls.
Click to read more
and watch the video
or