Nicki Minaj videos — 'Anaconda' rapper twerks for Meek Mill [Watch]
'Anaconda' rapper Nicki Minaj twerks for her fiance, Meek Mill, in a new video. You can watch it here.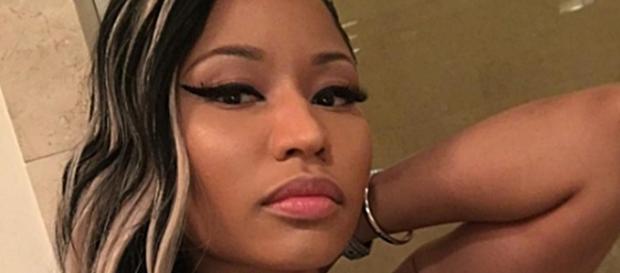 Nicki Minaj's videos have been known to attract attention. However, this one might bring another time of view into the mix. While you can clearly see Meek Mill enjoying the experience, the person holding the cam — as well as twerking — is Minaj, herself.
If you're interested, you can view the video in the YouTube post below.
Disclaimer: The following video contains graphic content. Viewer discretion is advised.
Nicki Minaj twerks for Meek Mill
Do you think Drake is missing out with Nicki?
As you know, there has been an ongoing beef between Minaj's boyfriend/fiance and Drake.
It's gotten so bad that Nicki and Drizzy supposedly stopped talking.
Concerning Minaj, most recently Drake mentioned that he no longer talks to Nicki. He mentioned this during his Views interview on April 28.
During that interview, he stated that he was waiting around to see if things would necessarily work out between Nicki Minaj and her guy. And, all in all, he chose to respect Minaj's decision, fully.
Who's winning? Meek Mill with Nicki or Drake without Minaj?
While Nicki Minaj's videos are definitely interesting, you have to remember that there are two sides to every coin. Have you ever asked why Minaj chose Meek over Drake? Is Nicki "the one that got away"?
As rumor has it, Minaj might not actually be "gone," according to Inquisitr. It seems that Nicki and Drake could be sending each other coded messages in recent songs. Via Minaj's feature on Ariana Grande's "Side to Side" and Drake's lyrics on "Hype," the two used code names "Tiffany" and "Stephanie."
Retweet to vote barbz #ChoiceRBHipHopArtist @NICKIMINAJ ⭐️ pic.twitter.com/APprgvsfLM

— Nicki Minaj News (@NickiLatestNews) June 2, 2016
It's possible that — although Nicki and Drizzy are respecting certain boundaries and decisions they've made — the two artists miss each other's friendship.
Nevertheless, out of Nicki Minaj's dance videos, where to you rank this one? Do you think Drake is losing out on Minaj's "assets"? Don't forget. Minaj actually twerked on Drizzy too, in "Anaconda." Feel free to share your thoughts in the comments below.
Antonio J. Newell is a writer for Blasting News. You can follow him on Twitter: @TonyBhaingz.
Previous: Drake arrested? Yes, it almost happened
Click to read more
and watch the video
or