Lady Gaga banned from China after meeting the Dalai Lama.
Lady Gaga has been banned from China as she angered the Chinese government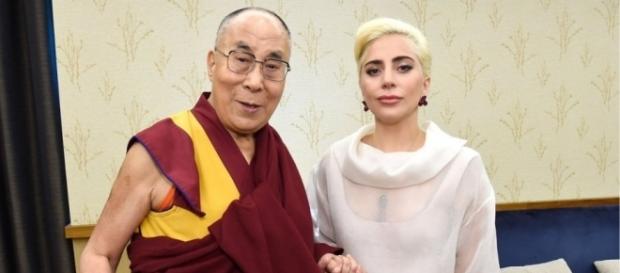 Lady Gaga met the Dalai Lama in Indiana, US, to discuss several issues, on which they shared similar views. Lady Gaga met the global icon and attended the 84th Annual Meeting of the United States Conference of Mayors.
Reports claim she has greatly upset the Chinese Government which has resulted in her being banned from China, her music being banned from radios and the CCP ordering websites to not upload, advertize or distribute her songs.
The blocking of the star's products has gone to such an extent that some Chinese citizens have had their Instagram posts censored if they included any of the 'Just Dance' singer's music.
The banning of Lady Gaga's material is in an act to show Beijing's irritation.
Lady Gaga's agreement with Dalai Lama's beliefs leads to her music being banned
Hong Lei has spoken of Dalai Lama's compaigns before saying that "The purpose of his visits and activities in other countries is just to promote his proposal for Tibetan independence. We hope that people from the international community can be fully aware of his true colors and nature."
Lady Gaga had a 19 minute with the exiled icon and together they discussed yoga, mental health, meditation and the topic of detoxifying humanity.
Dalai Lama, the spiritual leader often sparks anger and controversy and this time seems to have angered Beijing following his meeting with Lady Gaga.
Dalai Lama is often accused of separating the Himalayan region from China.
Lady Gaga is not the first musician to be banned from China
This decision to ban the singer is a very large one as Lady Gaga has a big influence on the music industry, is recognized worldwide and is a very popular singer in the West. However, Lady Gaga is not the only singer who has been banned from performing there, Miley Cyrus, Selena Gomez, Bob Dylan, Bjork and Oasis were all also banned from performing in China. Maroon 5 were another band to be banned from being able to perform there, these artists have all been banned as the Chinese government is angered by those who speak in favor of Dalai Lama's Tibetan independence and of his character in general.
 This news comes soon after the 'Poker Face' singer paid tribute to the Orlando victims and broke down in tears during her performance. The singer has felt very emotionally attached to the attack and reassured the victims and those affected that they were 'not alone'.
Lady Gaga has not yet commented on the ban of her music in China but it is believed that she knew what the consequences would be when she met with Dalai Lama.
Click to read more
and watch the video
or