Lady Gaga and the Dalai Lama discuss world issues during Facebook live chat
Chinese fans of the singer however found controversy with the meeting.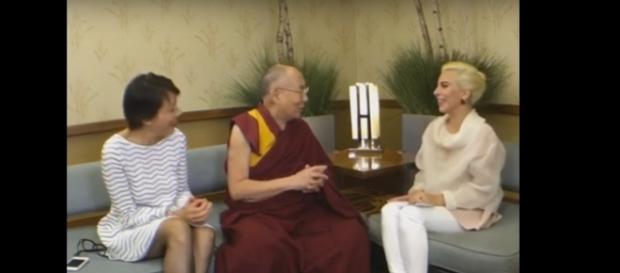 Performing artist Stefani Joanne Angelina Germanotta, better known to the world as Lady Gaga, and the current Dalai Lama met together this Sunday morning for a Facebook Live chat, at the US Conference of Mayors.
A conversation on peace and self
According to reports, the singer asked the Dalai Lama various user-submitted questions, said to have come from all over the world, which ranged in topics from self-esteem to suicide to peace and compassion. A video of the conversation can be watched below.
According to the Dalai Lama, a strong problem in today's world is that modern cultures demand a lifestyle that is "too much self-centered" and "too materialistic." According to him, it is also up to the "younger generation" to help create a more compassionate environment He also advocated ways for people to help find peace within themselves in today's troubled times.
Saying that even when things still look hopeless from a distance, it is important to acknowledge that there are still various positive things to comfort yourself with. He also advocated the importance of meditation.
The singer later used her social media accounts to send the following message:
Controversy among Lady Gaga's Chinese fans
However, not everyone is happy about the event. Reportedly, fans of the singer from China found issue with her support of the Tibetan Buddhist leader, as he is often viewed as a figurehead for Tibetan separatism. Lady Gaga is often considered to be one of the most popular Western singers in mainland China, according to reports, which in turn makes her a well-discussed icon there, but there is even concern that she will no longer be allowed to perform in the country. Some fans went so far to label her "stupid" and "ignorant." Even supportive fans have endured harsh feedback.
Reportedly, users of the Weibo service, an online micro-blogging website based in China, had posts based on the meeting between Lady Gaga and the Dalai Lama censored.
Lady Gaga is not the only Western celebrity to get in trouble with China over a connection to the Dalai Lama. This past year alone, Selena Gomez, Bon Jovi, and Maroon 5 had found themselves in similar controversy.
Click to read more
and watch the video
or