Kyie Jenner's boyfriend Tyga spends 47K on diamond grill
Obscene celebrity buy, Tyga throws down $47 thousand for a custom designed mouth piece.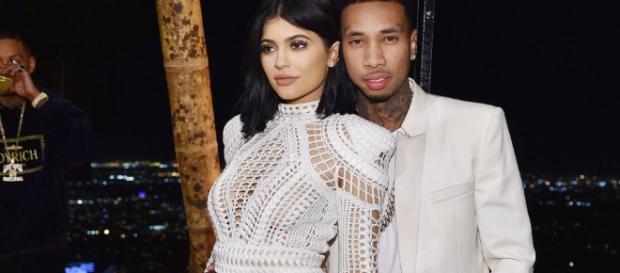 Rapper Tyga, known as Kylie Jenner's on again, off again, and on again boyfriend made one crazy purchase recently. The rapper is reported to have shucked out $47,000 for an extremely blinged out grill for his mouth.
Tyga buys diamonds for his mouth
It is a known fact that most women love diamonds, but Kylie Jenner's boyfriend Tyga may have the wrong idea about this little tidbit after spending thousands upon thousands of dollars on a pricey mouthpiece.
The singer recently met up with celebrity jeweler Ben Baller to have a custom mouthpiece designed that is 18 karats and sports 1400 diamonds!. And how about that name Ben Baller is that awesome or what?
Recently said to have reconciled with "Keeping Up With the Kardashians" star Kylie it is wondered just how Jenner feels about this extreme purchase.
The couple was spotted together over the weekend with Tyga sharing a photo to his Instagram of the reality star on his bed captioned "They always come back."
Kylie Jenner and Tyga back together
A little smug too soon, not really it is Kardashian/Jenner related news that was most likely well orchestrated by Kardashian/Jenner momager Kris Jenner to assure more ratings for the family E! reality series. Some fans are just wondering if Tyga picked up the tab, or if the diamond grill was a reconciliation gift from Jenner.
Tyga forking out that kind of cash sounds a bit strange considering recent rumors claim that Kylie loaned the singer a couple of million to buy his mansion and pay child support. But what is 2 mil to Kylie anyway? However, we are surprised that Blac Chyna has not chimed in, that $47 thousand could have gone a long way in supporting the couple's son just in case that whole marrying Rob Kardashian thing goes south.
Most likely the Tyga diamond grill buy will eventually come up for discussion on some future episode of "Keeping Up With the Kardashians." Do you think Kylie Jenner will also get a diamond mouth grill to match Tyga's? After all Kardashians/Jenners are drawn to all that is sparkly. Either way, the jewels get added to the list of obscene celebrity purchases. It is nice to have the means for such luxuries, but wouldn't it have been better to have donated that cash to a needy charity?
Click to read more
and watch the video
or