Kesha barely recognisable in bikini photo
Kesha posted a photo of her in a bikini and makeup free, still looking flawless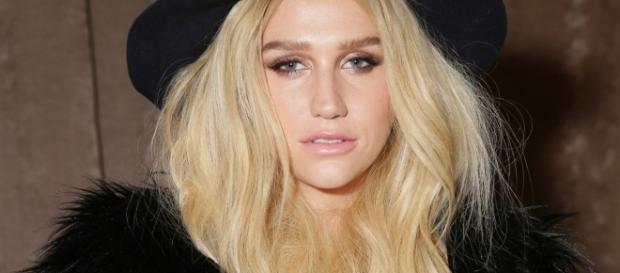 Singer Kesha posted a photo of herself over the weekend in which she is makeup free and is wearing a very small black bikini. In the photo she looks fresh-faced and happier than we have seen her for a while. Kesha's photo was posted from Palm Springs where she has said she is "resetting the chakras."
Kesha leaves her statement clothes and dark eyeliner behind for a fresh beach look
The photo is quite casual; her hair is still wet, she has a small smile on her face and is showing off her assets in a slightly-too-small black frilly bikini top.
We are used to seeing the star with black eyeliner around her eyes, or in funky outfits, so this rare photo showed fans and followers a side of Kesha that we are not accustomed to.
The photo that she posted on Instagram was captioned "well. Hmm. That don't fit huh." Despite the bikini top not being the right size she did not seem to mind posting the revealing photo.
She also posted another photo of herself that day, this time she took a selfie of her doing a kissing face…still in the too-small bikini. The 'Tik Tok' singer ignored her wardrobe malfunction and carried on taking pictures of herself, this time she had taken off her baseball cap and let her beach hair curls fall over her face.
It is always nice to see famous singers going bare-faced and not being ashamed to share their casual photos, but Kesha is one singer you wouldn't necessarily expect it from as she has pulled off many whacky styles in the past.
Kesha is no stranger to strange outfits and multi-colored hair
Kesha is previously known for trying different things; she has had rainbow hair, blue hair, pink hair, lavender hair, a nose ring and big false eyelashes.
At one point the 29-year-old even had one side of hair pink whilst the other side was blue, she has also had dramatic makeup such as 'Black Swan' styled eye-shadow which goes into a point all the way above her eyebrow and is used to wearing very very long false nails. When asked about those who criticize her Kesha simply replied "Give the haters the finger and be yourself."
The young singer clearly needed a break as she has been facing a difficult lawsuit against her producer since 2014 and seems to constantly be the victim of online trolls her criticize and bully her for her looks and her sometimes erratic behaviour.
Click to read more
and watch the video
or