'Game of Thrones' video: the opening clip with the most famous italian cities & buildings
The Game of Thrones opening with the most famous italian cities is probably the best alternative GOT intro ever made.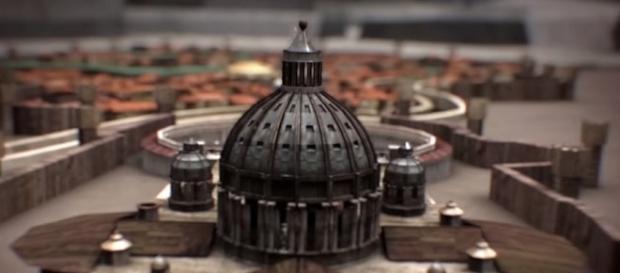 Recently an alternative version of the Game of Thrones opening has been released by a group of Italian students as a graduation project at the Polytechnic University of Turin. The alternative intro created by Chiara Sapio, Manoj Rollo, Filippo Silvestro and Mara Guarneschelli with the use of 3D modelling software features six of the most famous and loved Italian cities, along with some of their most iconic buildings.
Game of Thrones alternative intro video clip.
Here's the alternative intro published on YouTube with the title "GOT Italy - The Project: A Game of Thrones Intro Inspired Graduation Project":
Cities and buildings featured in the video: Rome and Naples.
After a brief look at the Italy's map the camera zooms to the first city: Rome, the Italian capital.
The building you can see in the video is the St. Peter's Basilica, a Renaissance church in Vatican City, the papal enclave within the city of Rome.
The second city we encounter in the video is Naples and the castle you can see in the video is Castel Nuovo ("New Castle"), also known as castle Maschio Angioino, a building located in front of the city hall, first erected in 1279.
Palermo and Venice.
The third city featured in the Italian, alternative version of the Game of Thrones opening is Palermo, and the building on which the camera zooms is the Cathedral erected in 1185 and completed during the 18th century.
The fourth city is Venice, as you can easily guess by the surrounding landscape; the building at the center of the screen is the St. Mark's Basilica, the most famous of the city's churches, one of the best known examples of Italo-Byzantine architecture, completed in 1092.
Turin and Florence.
The fifth city featured in the video is Turin and the main building is the Mole Antonelliana, a major landmark in the city named after its architect, Alessandro Antonelli, built soon after Italian unification (the construction started in 1863. The building now houses the Turin's National Museum of Cinema.
The last city you can see in the alternative Game of Thrones opening is Florence. In the first frames you can see a coin rolling over Ponte Vecchio ("Old Bridge") with an animation similar to the one we see in the Braavos model during the original GOT opening. Soon after you can see a model of the Uffizi Gallery, one of the most important art museum of all Italy, located very close to Piazza della Signoria, an L-shaped square in which is located the last of the buildings you can see in the video: Palazzo Vecchio ("Old Palace"), the town hall of Florence.
Click to read more
and watch the video
or