Funeral services for Christina Grimmie to be held this week
Funeral services will be held for 'The Voice" star Christina Grimmie in her New Jersey home town on Friday.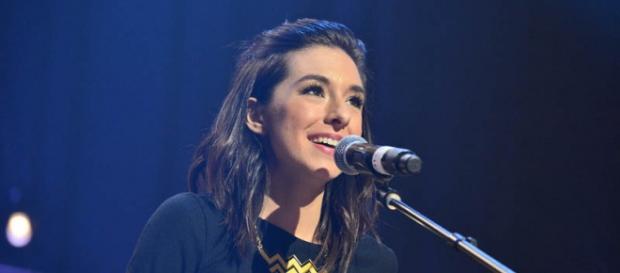 According to Access Hollywood, there will be a viewing this coming Friday at the Fellowship Alliance Chapel in Medford, where a memorial service for Christina Grimmie will be held later that night. Christina, 22, was shot to death after a concert last week while signing autographs for fans outside the Plaza Live concert venue in Orlando. The incident happened at around 10:30 p.m. after the concert performed by Grimmie and the band Before you Exit. According to police there around 60-100 people attended the concert, but there were only a few remaining when the shooting occurred.
Senseless killing of a talented young woman.
As reported on Blasting News, her killer was identified as 27-year-old Kevin James Loibl of St. Petersburg, Fl.
According to authorities, Grimmie had no personal connection to the man who first shot her, and then killed himself, after being tackled by Christina's brother Marcus Grimmie. Orlando police said that the actions of Christina's brother Marcus may have saved several lives. Orlando police still have no motive for the senseless crime and investigations are ongoing.
#ChristinaGrimmie's funeral will take place later this week. https://t.co/GqF3m7Hw1l pic.twitter.com/u7Z8rfWdfx

— Access Hollywood (@accesshollywood) June 15, 2016
Humble beginnings on YouTube.
Christina's father noticed her talent for singing at a young age and she reportedly took up playing the piano at age 10. She previously lived in Evesham Township, close to Philadelphia, but moved to Los Angeles in 2012. Christina later became a star on YouTube and finally became well known and popular for her appearances on the NBC show "The Voice" two years ago where she finished in third place.
Adam Levine offers to pay Christina's funeral expenses.
Channel24 notes that Christina's mentor and voice coach, Adam Levine, has offered to pay the funeral expenses for the young star. Levine worked closely with the singer when she finished third on "The Voice" two years ago.
Candlelit vigil for Christina Grimmie.
A candlelit vigil was held in Grimmie's hometown Monday night to honor the 22-year-old and her brother Marcus gave a moving speech, giving a tribute to the victims of the Pulse nightclub mass shooting which happened two days after his sister was killed.
Click to read more
and watch the video
or