Elvis' original guitarist Scotty Moore is dead
Elvis Presley's first guitar player Scotty Moore dies age 84 due to poor health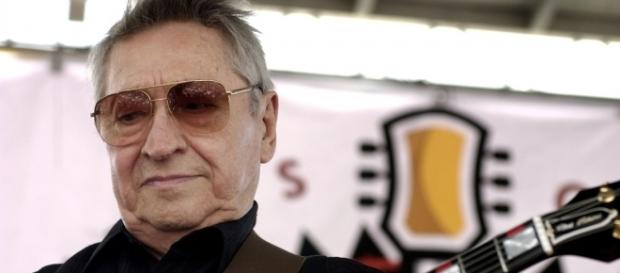 Elvis Presley's rock guitarist Scotty Moore died Tuesday night in Nashville after months of troubles with health. Scotty was a member of Elvis' original band and was one of the people who helped Elvis shape his music in its early days. Moore is considered a legend and inspired thousands of guitarists. The exact details of the cause of death are unknown but it is most likely that it was caused by age and health decline.
Moore was the last member of Elvis' original band 'The Blue Moon Boys' to still be alive, yet he sadly passed away on Tuesday and had been suffering for months because of poor health.
The legend's original band consisted of Elvis, Scotty Moore, Bill Black and Sam Phillips.
The famous musician performed on Elvis' biggest hits such as 'Hound Dog', 'Blue Suede Shoes' and 'Heartbreak Hotel', as well as many other rock and roll hits.
Elvis and Scotty Moore had known each other since 1954
Scotty Moore was born in Tennessee and started playing guitar at the very early age of 8. He was paired with Elvis Presley by Sam Phillips who was the producer at Sun Records, he met the future legend in 1954 when Elvis was just a teenager.
It was actually by chance that Moore met Elvis, he had heard that Sam Phillips had a studio and a record label and went along to see him one day in the hope of getting a record out. Moore recalls the event during an interview in 2010 with Rolling Stone in, he says "I knew that if we could make a record, we'd get more places to play around town. Sam agreed to record us and he and I became good friends. Then one day we were having coffee, and his secretary actually bought up Elvis' name. He had dropped by the studio with the hope of recording something, so Sam said 'Call this guy up and get him to go over to your house and see what you think of him'. So he came to my house on the Fourth of July. It was kind of a pre-audition."
Matt Ross-Spang who is a studio engineer at Sun Studio took to Twitter to express his sadness "We lost one of the finest people I have ever met. I was lucky to call you a friend and I'm very glad I got to see you just a few days ago. The guitarist changed the world...especially mine; I hope you don't mind if I keep stealing your licks. Love you Scotty." he posted.
Click to read more
and watch the video
or