'Doctor Who' season 10 and 'Class': Clara and the Doctor together again
Big news for Doctor Who fans: Peter Capaldi revealed he shot new scenes with Jenna Coleman.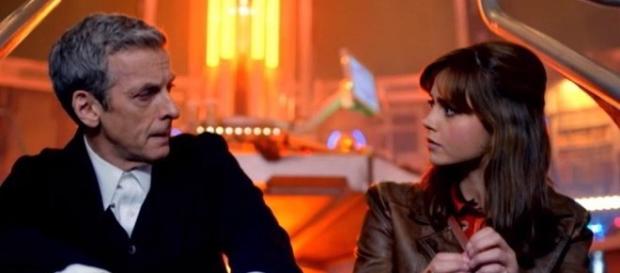 We have some exciting news about Doctor Who season 10 and the new Doctor Who spin-off, Class, which is probably going to be released in Autumn, 2016. The hints come straight from Peter Capaldi's mouth: the popular actor, speaking at Awesome Con in Washington DC, revealed that the 11th Doctor and Clara Oswald will be together again.
Clara and the Doctor reunited in Class?
Capaldi was at the Awesome Con with Jenna Coleman and some other Doctor Who's stars. At a certain point, the actor said: "I'm not sure how successfully Clara was able to wipe his mind", adding that he was about to tell the crowd something he can't tell everyone.
Then he revealed even more: "I just shot something that Clara was still there in", said Capaldi.
Was he referring to Doctor Who season 10? We don't think so, since the shooting for the next season hasn't started yet. All the hints suggest that the 11th Doctor will meet Clara Oswald again in the Class spin-off, which is set at Coal Hill School, where Clara worked as a teacher in Doctor Who's previous seasons. A while ago, a Twitter user posted a picture of the Tardis on-set in Cardiff, confirming the Doctor's presence in Class.
It's happening! An actual real life TARDIS at Class filming!🛢💡⏱ #classsr #classdw #DoctorWho pic.twitter.com/JsiY5rgn7q

— Caroline Lie (@_Caroline_Lie) 27 aprile 2016
Doctor Who 10 news round-up: Missy will be back, what about Captain Jack?
Michelle Gomez recently confirmed that Missy will be back in Doctor Who season 10 as the fans expected.
The last time we saw the time lady, Missy remarked she had suddenly had "a very clever idea". We can expect to see what this idea is about in season 10. It's also possible that Captain Jack will return in Doctor Who Christmas Special 2016 (here you can find the latest news about Jack Harkness).
Mark Gatiss will be writing an episode of season 10: a sequel to Sleep No More?
Mark Gatiss recently stated he is writing at least one of the season 10's episodes, confirming he has a sequel planned for his weird episode Sleep No More. Gatiss, in an interview with WhoSFX, pointed out that even if the Doctor loses in Sleep No More, he knows "something's wrong, so he's not fooled…". #Television