Dimpy Ganguly gets trolled for getting pregnant before marriage with Rohit Roy
After posting her baby bump picture on Instagram, the model got some nasty comments.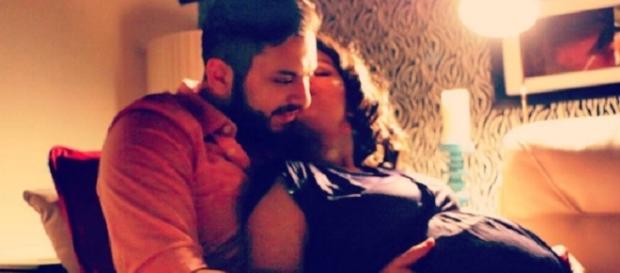 Renowned Indian model Dimpy Ganguly gave birth to a baby girl on June 20, 2016, and the 30-year-old celebrity soon shared this news through her official Instagram account.
Around some days back, the lady has also posted images of her baby bump, along with the snaps of her with hubby Rohit Roy.
Quickly after she posted the pictures of her swollen carrying stomach on June 25, 2016, social media trollers started harassing her stating that she has got pregnant before marriage.
The nuptial ceremony of Dimpy and Rohit was conducted in a grand manner on November 27, 2015. The trollers accused the woman of being an expectant prior to the wedlock and delivering a newborn within seven months after the wedding.
Some users even claimed that Ganguli is such a lady who will go to any extent for publicity.
Soon after the social networking attack, Dimpy's spouse Roy came for his better half's help. Through the Instagram profile, he literally lashed out against the people who asked unwanted queries to his wife.
Rohit urged all the online trollers to stop spreading filth around. He added that it is his duty and moral responsibility to protect his wife when some stray dogs bark at her.
Rahul Mahajan ex wife, Dimpy Ganguly has been blessed with a baby girl. #Brekingnews #Pagescoopnews @RahulMahajanFC pic.twitter.com/BrG5ccpIpG

— Pagescoop News (@pagescoopNews) June 25, 2016
Through his strong tweet, Roy asked people to respect womanhood and made it clear that not every man is getting united for money sake.
As per Dimpy's husband, parents of these individuals who troll others will be ashamed of their kid's act. He also criticized them for using such bad English in their comments.
Dimpy Ganguly blessed with baby girl; Rahul Mahajan's ex-wife names her Reanna [PHOTO] https://t.co/myLk64eIY2

— pdlweb (@pdlweb) June 26, 2016
Through this strong reaction, her husband has given an emphatic warning against everyone who love to insult women through nasty opinions on Twitter and other social media sites.
Before marrying Roy, Dimpi married Rahul Mahajan on 2010. But due to personal tiffs and issues, they parted ways. Shortly, she found her current better half and got married in no time.
In the midst of all these controversies, we have learned that the mother and new born infant are keeping fine and are perfectly healthy.
What do you think of the controversy?
Click to read more
and watch the video
or