Bon Jovi surprises fan suffering from cancer
Bon Jovi gives fan unforgettable experience and gives her a kiss and a guitar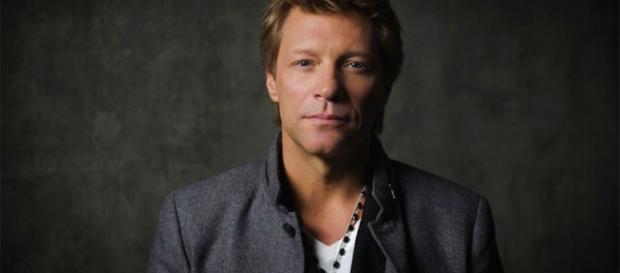 Bon Jovi gave one of his fans the best surprise of her life. Carol Cesario is a lady from New Jersey who is one of Bon Jovi's biggest fans and has been for years, unfortunately she is battling lung cancer and is very sick, but one of her dreams has always been to meet Bon Jovi. Carol's daughter Rosie Skripkunis posted a sign on social media asking him to meet her mother, she shared it around the internet in the hope that he might see the sign and take notice.
Bon Jovi's representative did see the sign and organised a surprise meeting.
Rosie Skripkunis told her mother Carol that Bon Jovi's restaurant called JBJ Soul Kitchen in New Jersey had been in contact and had invited their family to the restaurant for a free meal.
So Saturday 25th June Carol went to the restaurant with her daughter and family members and whilst in the restaurant Bon Jovi snuck up on Carol without saying anything, when Carol saw Bon Jovi she was so shocked and shouted 'oh my God', Bon Jovi then kissed Carol Cesario on the cheek and gave her a book as well as an autographed guitar.  
Bon Jovi kisses shock-stricken fan who has wanted to meet him for 30 years
The video of Bon Jovi surprising his fan has been shared on the internet and shows the touching moment she met her idol. The videos sees Carol sitting at the head of one of the tables in the restaurant, she is wearing a scarf on her head due to her cancer treatment. As Bon Jovi comes over to her table it takes a while for Carol to realise that he is standing next to her and as soon as she does realize she gasps and covers her face in shock, Bon Jovi then takes a seat next to her and hugs her and kisses her on the cheek.
Several people around the table film the encounter which shows the ladies pure amazement of meeting a man she has wanted to meet for 30 years.
Her daughter Rose Skripkunis posted the video on Facebook and said "This has been one of the best days of our family's life. Seeing my mom this happy filled me with so much joy." The video has had more than 24,000 views and has been shared numerous times by fans and Carol's relatives.  
Click to read more
and watch the video
or