Bon Jovi remake of 'You Give Love a Bad Name' blues version
Jennie Lena blues up Bon Jovi's 'You Give Love a Bad Name' and it is killer.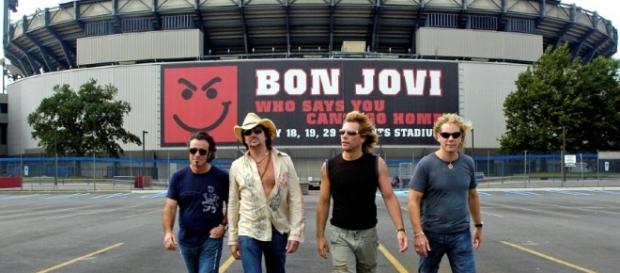 Bluesy cover
Bon Jovi fans who would have thought that the band's 80's hit "You Give Love a Bad Name" couldn't get any better. Okay not better, but different. Holland singer Jennie Lena has just released her version of the popular rock song with a killer bluesy style that has music lovers of all ages taking notice.
The hit tune was first released in 1986 and was a smash hit from Bon Jovi's 'Slippery When Wet' album. Needless to say it sent rockers of all ages over the edge, Women instantly fell in love with lead singer and band namesake Jon Bon Jovi, with his pretty boy looks, sexy smile, and piercing eyes and the men all wanted to be him.
The song was written by band members Jon, Richie Sambora and Desmond Child and is about a woman who jilted her man. The song is said to have been originally written for Bonnie Tyler under a different name 'If You Were A Woman, (and I Was A Man)' but was reworked and put out by the band after the song failed to first catch on.
The song hit gold taking the rock band from an opening act for 38-Special to a headlining act. More than 30-years later Bon Jovi is still selling out concert venues across the globe with millions of die-hard fans of all ages in attendance.
Jennie Lena, who appeared on Holland's The Voice, did not win the competition but has garnered much attention for her musical abilities and exceptionally strong voice. Lena recently covered the Bon Jovi rock tune for PostModern Jukebox on YouTube and the video is receiving mega hits daily. To date, the video has been viewed nearly 25,000 times in the past few hours and is receiving media coverage praise from a number of entertainment news outlets.
Of course, to compare the Bon Jovi original version and Lena's remake is like comparing apples and oranges, both are great and uniquely different.
No word as to whether Jon and the gang have listened to Lena's blues version or not. Although it would be quite interesting to hear Jon's thoughts on the young woman's take on his hit song.
Bon Jovi fans can look forward to a new album from the band in September titled 'This House Is Not For Sale.' A new world tour will follow the album release in 2017.
Click to read more
and watch the video
or