TWD season 7 spoilers round-up: latest news about Glenn or Abraham's death
TWD 7 latest spoilers: who is really dead in season 6 finale, Glenn or Abraham?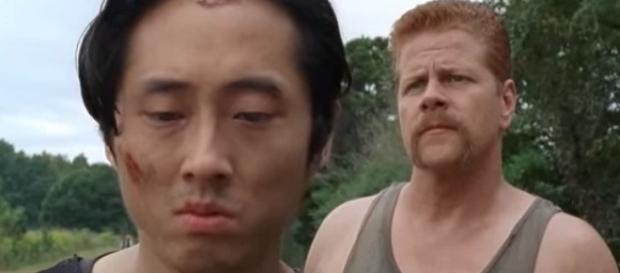 After season 6 finale, TWD season 7 spoilers raised all over the web. The main question is, who is dead in The Walking Dead season 6 last episode? Was it Glenn or Abraham? We have had several, remarkable news about it, but the problem is, the spoilers are pointing in different directions.
Abraham is dead: the TWD season 7 spoilers from Celeb Dirty Laundry
Recently Celeb Dirty Laundry released some spoilers on TWD season 7 claiming that Abraham is the one who got killed in The Walking Dead 6 finale.
According to the website, an insider from the set said that killing would be a very efficient way to sent a message to Rick and the others. "Abraham is the biggest guy in the group", said the insider.
"Negan taking him out sends a huge message to Rick and everyone else".
In the comic book version of The Walking Dead Glenn is the one who died, but we have to remember that the showrunner already declared that the TV show is going to take a "hard left" from the comic book storyline. The latest spoilers on TWD 7 confirm that we cannot exclude that Abraham is the one who got killed by Negan.
Glenn is dead: spoilers and news on TWD 7 supporting the theory
On the other hand, new rumors seem to confirm Glenn's death. Besides what we already know (Glenn is the one who dies in the comic book version of TWD and so on), we must consider that actor Steven Yeun was seen filming for the upcoming movie Okja, a big sign that Glenn is dead on the AMC's show.
Recently Parent Herald reported a rumor about TWD season 7 according to which, Glenn's death could be linked to the wish of Norman Reedus (aka Daryl Dixon, the most loved character in the show) to obtain more screen time for his character as well for Jeffrey Dean Morgan's one.
Norman Reedus already denied this rumor, and we, as do many fans of the show, don't believe he will do such an unlikely move against one of his co-stars for his personal gain.
As we can see from this spoilers round-up about TWD season 7, it's still unclear who was Negan's victim in season 6 finale.
Click to read more
and watch the video
or