'The Voice' 2016 top 9 results: Who won the iTunes vote?
Adam Wakefield and Laith Al-Saadi scored iTunes bonuses with their respective cover songs from the May 9 live show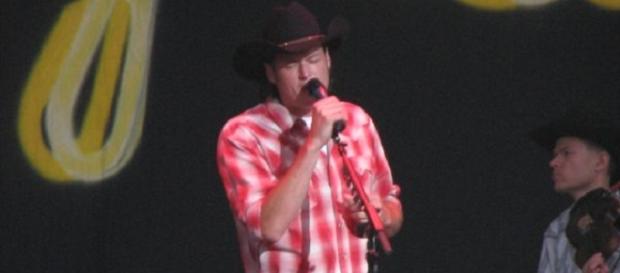 When The Voice 2016 continued May 9 on NBC, the nine contestants still hoping to claim the season 10 title took to the stage to sing live for America's votes. By the time the week's voting window closed at 9 AM Pacific on May 10, two of the competitors --and one super star coach-- found their offerings ranked in the top 10 of the iTunes top 200 chart, which earned each an iTunes vote multiplier for the week. So who claimed top dog status and who's likely to find himself in serious trouble during tonight's live elimination show? A look at the iTunes chart offered up plenty of interesting details.
Blake Shelton, Gwen Stefani lead the pack
Although the nine contestants went head-to-head for votes, it was super star mentor Blake Shelton's new duet with girlfriend and sometimes-The Voice coach Gwen Stefani that earned the best response from iTunes users.
"Go Ahead and Break My Heart," which the duo wrote together while coping with their respective divorces and debuted during last night's show, finished the voting window at number three, trailing only Justin Timberlake's "Can't Stop the Feeling" and "One Dance" by Drake.
Two score iTunes vote multipliers
Shelton may have fared the best of all, but fortunately for the country crooner's show aspirations, one of his proteges scored the highest placement of the top nine. Adam Wakefield earned his second iTunes bonus of the season for a cover of "Love Has No Pride," which finished the voting window ranked ninth. Also scoring a multiplier was Team Adam Levine's Laith Al-Saadi, whose version of "We've Got Tonight" edged into number 10 --which bumped Beyonce's "Formation" to number 11-- shortly before time expired.
The bonus is Al-Saadi's first of the season. Mary Sarah, also of Team Blake, just missed a bonus with "My Church" by placing 12th.
Complete iTunes results for May 10
The full itunes top 200 chart rankings for the contestants are as follows:
9. Wakefield, "Love Has No Pride"
10. Al-Saadi, "We've Got Tonight"
12. Mary Sarah, "My Church"
19. Hannah Huston, "Say You Love Me"
21. Bryan Bautista, "1+1"
25. Alisan Porter, "Cryin'"
37. Shalyah Fearing, "A Change is Gonna Come"
78. Paxton Ingram, "I Wanna Dance with Somebody"
113. Nick Hagelin, "Hold On, We're Going Home"
Based on the iTunes vote results, the most obvious candidates for tonight's bottom two are Team Blake's Ingram and Team Christina's Nick. Given that Nick only advanced to the top nine by virtue of the May 3 Twitter Instant Save, he's most likely to get the boot when The Voice 2016 top nine results show airs tonight on NBC.
Click to read more
and watch the video
or