'The Voice' 2016 finals iTunes vote results: Favorites zoom to the top 10
Adam Wakefield's original song was the first finale performance to break into the iTunes top 10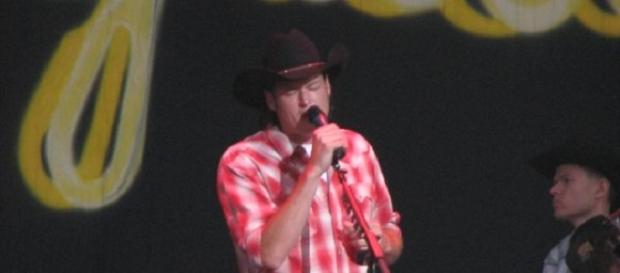 The Voice 2016 resumed May 23 on NBC as the top four contestants competing on behalf of mentors Christina Aguilera, Blake Shelton, Adam Levine, and Pharrell Williams took part in the season 10 finals by singing three songs apiece. Before the show even began on the west coast, one of the talented aspiring vocalists had already scored an iTunes vote multiplier for his original song by placing in the top 10 of the iTunes top 200 chart. Here's a look at the iTunes results as of 7:45 PM Pacific the night of the live broadcast.
Adam Wakefield scores another iTunes bonus
As of press time, Adam Wakefield's original song, entitled "Lonesome Broken and Blue," rested at number three on the iTunes top 200 chart.
Wakefield, who is mentored by Shelton, previously scored three iTunes bonuses for other cover songs, and is in good position to potentially earn another finale-night bonus with his cover of Vince Gill's "When I Call Your Name," which ranked 14th at press time. Wakefield and fellow contestant Alisan Porter --who starred in the film Curly Sue as a child-- are the favorites to take the title.
Alisan Porter in good position
Porter, who like Wakefield earned three iTunes vote multipliers during previous weeks of the competition, also sat in good position to earn more bonuses with her two solo offerings early in the week's iTunes vote window. Her original song, "Down That Road," ranked 11th, while her cover of "Somewhere" from Westside Story sat at number 15.
Hannah Huston, Laith Al-Saadi still in it
Although the final two contestants still in the running for The Voice 2016 title are longer shots, they were performing well with music downloaders at press time. Hannah Huston of Team Pharrell earned her second iTunes bonus of the season with her cover of The Police mega hit "Every Breath You Take," which sat at number eight, while her original song, called "I Call the Shots," ranked 20th.
Laith Al-Saadi, who is coached by Levine, rested at number 16 with "Morning Light," his original song, while his cover offering --Cream's "White Room"-- ranked 24th.
To find out how many iTunes vote multipliers the contestants earn, check the iTunes top 200 chart at 9 AM Pacific on May 24. Then tune into the The Voice 2016 season finale on NBC later in the day to see who walks away with the recording contract. Check local listings for precise air times.
Click to read more
and watch the video
or