The National storm The Late Show with Stephen Colbert
The band performed a cover of The Grateful Dead's classic song "Morning Dew"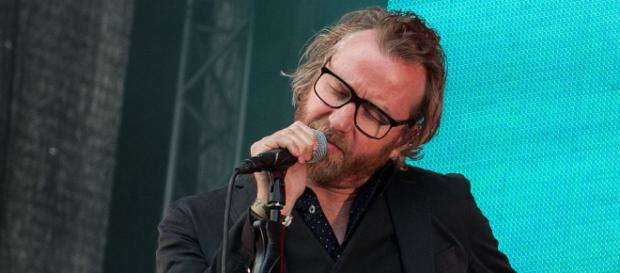 Monday night's "The Late Show with Stephen Colbert" featured a motley assortment of guests including a pre-taped opening segment with presidential hopeful Bernie Sanders,  Kaley Cuoco of The Big Bang Theory, sex advice columnist Dan Savage, and acclaimed indie rockers The National.
The Brooklyn-based band performed the song, "Morning Dew" from the upcoming album "Dead of the Dead." The record, due for release on May 20, is a star-studded tribute to the music of The Grateful Dead. 
As has become tradition for the band, both for television appearances and tour dates, the band kept fans up-to-date with their goings on backstage throughout the day via social media.
"Our next guest is..." #thenational #colbert pic.twitter.com/MMQiunclPH

— The National (@The_National) May 9, 2016
Massive "Day of the Dead" release has 59 songs, 5 hours of music
Curated by The National's twin guitarists Aaron and Bryce Dessner, "Day of the Dead" was announced back in March after four years of recording and planning.
Containing 59 classic songs spanning the entire Grateful Dead catalog, The National performs several songs and three members also make up the large recording house band. Also included on the collection are songs by Jenny Lewis, Lisa Hannigan, Anohni, The Flaming Lips, Lucinda Williams, and Bob Weir -- a founding member and guitar player for The Grateful Dead. Artists were carefully selected by the Dessners to highlight multiple musical generations.
"What's especially interesting about this record is that there aren't just some of the great voices of our generation," Aaron recently told Relix about the collection, "but also the generation above us and just below us."
"Day of the Dead" is the twenty-fifth recording produced to benefit the Red Hot Organization, a New York-based AIDS charity founded in 1990.
The charity uses pop culture as a means to raise awareness and funding for AIDS/HIV health-related issues. The band previously contributed to the 2009 album "Dark Was the Night" for the organization, which was also curated by the Dessner brothers. 
Previous Late Show visit paid tribute to David Bowie
This is singer Matt Berninger's second appearance on the Late Show this year. His other band EL VY, with Brent Knopf of Menomena, performed on the show January 10, 2016. EL VY played two songs: "Return to the Moon" from their album of the same name, and a cover of David Bowie's "Let's Dance," in tribute to the music legend who had passed away earlier that day. Their Bowie cover, with The Late Show's house band Stay Human, was widely circulated by music blogs and mainstream entertainment websites and is available for viewing below: 
Click to read more
and watch the video
or