'Supernatural' Season 11 finale had a huge twist: someone came back from the dead
With Dean sacrificing himself for the good of humanity again, 'Supernatural' fans got an exciting twist to end Season 11.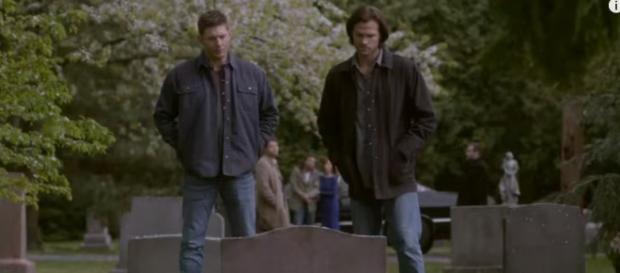 Just what is in store for Supernatural Season 12 after that shocking and exciting finale twist? A major character came back from the dead, and it will definitely change everything.
For those who don't want to be spoiled, it's best not to read on from here! This does contain spoilers for the Supernatural Season 11 finale.
Amara focuses on ending the world.
It was time to tackle The Darkness. After a season of watching her grow from a baby to a beautiful woman, Amara was ready to destroy the Earth and humanity; her brother's greatest creation.
And why would she do something like that? She was jealous. God has created everything and been successful. He has always been the light, and she has always wanted to destroy everything good he has done.
God didn't even have a way to stop her this time. He tried getting heaven and hell together, only to find out that the power wasn't enough. The only way to stop her, this time, was to gather souls and turn them into a bomb. Dean agreed to carry that bomb to destroy Amara.
Who just came back?
It turned out that Dean, played by Jensen Ackles, wouldn't carry the bomb, but he would be the bomb. He was willing to sacrifice his own life to save the world. [Insert many Supernatural fans rolling their eyes.] This has been done to death. The Winchesters always sacrifice themselves to save the world, only for them to be stopped at the last minute or brought back in some way.
Carver's surprise.
Well, Supernatural's Jeremy Carver had a surprise. Fans weren't going to see the same old thing. Dean tried talking to Amara first, and it actually worked! Amara made up with God and thanked Dean for helping to mend the relationship between light and dark.
She even helped to save God! How did she thank him? She brought someone back from the dead for him, and not just anybody. Mary Winchester came back! Just what does this mean for Supernatural Season 12?
Potential storylines.
There are so many potential storylines for this. The main focus at first should be on the brothers seeing their mom in the flesh again. That is if both brothers are definitely alive. Newcomer Lady Toni Bevell fired a warning shot to somewhere off camera, and it may have hit Sam. Maybe Dean and Mary can work together to save the younger Winchester brother?
Supernatural will return sometime in October 2016 since it has been confirmed for the fall 2016 lineup, unlike The Originals. It will move from Wednesday nights to Thursdays.
Click to read more
and watch the video
or