Spoilers for 'The Bachelorette' 2016 with JoJo Fletcher episode one
Reality Steve has already figured out what will go down on the first episode of the season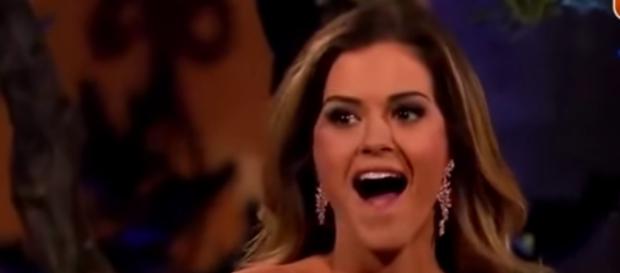 It is almost time for The Bachelorette 2016 with JoJo Fletcher to start airing and of course, Reality Steve has been able to figure out big spoilers about what is going to happen. The first episode will air on Monday, May 23 and the spoilers are already out about what to expect.
How does the episode start?
JoJo Fletcher's season will start with a recap of last season. They will show what happened with JoJo and Ben Higgins. She found love with him, but it didn't work out.
Instead, JoJo moved on to try to find love as The Bachelorette. Ali, Desiree, and Kaitlyn will all show up to give her some advice. 
They will show intro videos for eight of the guys.
They always pick a few to show and this season it will be Grant, Jordan, Alex, James, Evan, Ali, Christian, and Luke. If you haven't been reading spoilers, just know that Jordan Rodgers is one to watch for. He will end up kissing JoJo on night one and will be the only one to get a kiss. JoJo will also give him the first impression rose, so pay attention to his intro video. He is also the first one out of the limos.
There are 26 guys competing for JoJo's heart this season. Daniel will strip down before the end of the night, James Taylor will sing her a song, Robby will bring wine to drink straight out of the bottle, and Jon shows up in a kilt. There will be a few crazy ways that people show up on night one as usual. One you won't want to miss is Luke Pell showing up on a horse, that they make look like a unicorn.
He also gives her a pair of boots on night one. 
At the end of the show, as JoJo is giving out her roses, Jake Pavelka will show up. The guys think he is there to try to find love, but instead he is just there to give JoJo a bit of advice. Jake was The Bachelor, but they are also longtime friends, so that is why they chose him to show up and cause a bit of drama. 
JoJo Fletcher will end up keeping 20 guys and sending six of them home. She will still have a lot to choose from during the upcoming weeks. Hopefully, JoJo can find love with one of these men on this season of The Bachelorette. 
Are you excited to see The Bachelorette 2016 with JoJo Fletcher? Who do you think she will pick in the end? Sound off in the comments section below on your thoughts, and don't miss new episodes on Monday nights on ABC.
Click to read more
and watch the video
or