Robin Wright negotiated equal pay on 'House of Cards'
The veteran actress wanted to earn the same pay as her co-star Kevin Spacey.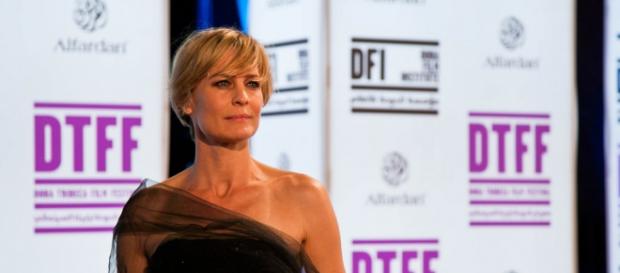 Robin Wright has been working in the television and film industry for over 30 years. The 50-year-old actress and director started her career as a model in the early 1980's. She then moved on to take a role in television as an actress on the soap opera, Santa Barbara. It was in 1987 when Wright made the transition to film in the Rob Reiner romantic adventure movie, The Princess Bride. From there, her career took off and she appeared in a slew of successful films. 
House of Cards 
Currently, Wright stars as Claire Underwood in the critically acclaimed Netflix series House of Cards. Two years ago, Wright won the Golden Globe Award for Best Actress in a Television Series Drama for her role on the show.
The political drama premiered on Netflix on February 1, 2013. The entire 13 episodes of the first season were streamed and the show became an instant hit, later receiving nine Primetime Emmy Award nominations and four Golden Globe Award nominations.
House of Cards has been one of Netflix's most lucrative shows. One year after it's premier, season 2 was released in its entirety on February 14, 2014. Then came season 3 in its entirety on February 27, 2015. Season 4 followed in March of 2016 and on January 28, 2016, Netflix renewed House of Cards for a fifth season, to premiere in early 2017.
Equal pay for equal work 
This past Tuesday in an interview with Judith Rodin, Wright said that she had recently threatened to go public unless she received the same pay as actor Kevin Spacey, her House of Cards co-star, received. Spacey plays Frank Underwood, the husband of Wright's character Claire Underwood. Both Wright and Spacey's characters are the starring roles of the show, and Wright is also a producer and occasional director for House of Cards.
Wright asked, and Wright received. The Huffington Post calculated that Spacey earns $500,000 for each House of Cards episode, while Wright gets about $420,000 per episode. That's a difference of $80,000 per episode, and when you do 13 episodes per season, that's some serious money. 
Click to read more
and watch the video
or