Nina Dobrev will return to 'The Vampire Diaries': will she be the key to save Damon?
Could Elena Gilbert's return to 'The Vampire Diaries' help save Damon Salvatore?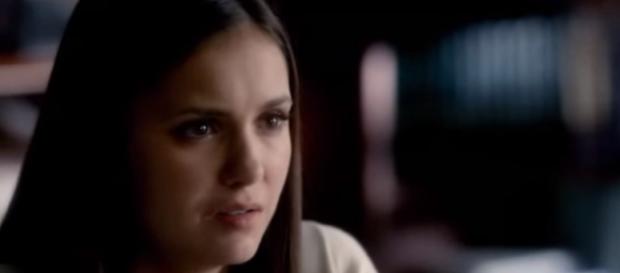 The Vampire Diaries Season 7 came to an end earlier this month, and fans are already discussing what the outcome could mean for Season 8. They are also discussing the return of Elena--well, her voice--and what that means for the character's return next season.
Nina Dobrev has always said she will reprise role
According to Julie Plec, Elena Gilbert will definitely return at the end of the series. Nina Dobrev left the show at the end of Season 6, with the aim to focus on new projects.
However, she never said that it was a permanent goodbye and there were always plans to bring her back for The Vampire Diaries series finale.
It is likely that she will return for the last ever episode for definite, and may return for the episode before that.
It is unlikely she will return for more of the show unless it continues for longer than anybody expected and the actress wants to return. Plec, the showrunner, has said that she will never force the actress to come back but would welcome it if offered the chance.
Will Elena help to save Damon?
The big twist at the end of The Vampire Diaries Season 7 was Damon and Enzo being turned evil by the monster in the vault. Damon was pulled in by Elena's voice, and he couldn't help but have flashbacks of his time with her. Throughout Season 7 he has focused on his time until he gets her back and even wanted to sleep until Elena woke up from her Sleeping Beauty-like coma.
There are theories that Damon's memories of Elena will help to bring him back to the good side. He could even have hallucinations of her, focusing on what she would be thinking at this time about his actions.
Elena has always been disappointed when Damon did wrong, and mentioned that she shouldn't love him as much as she does.
Paul Wesley, who plays Damon's brother Stefan, has said that The Vampire Diaries Season 8 will be dark and twisty. He hasn't confirmed just how long Damon will be evil, but says that he enjoys these types of storylines. Of course, he prefers to be the evil one, but that can't happen all the time.
Will Dobrev come back sooner? Will it be Elena that saves Damon? All will be revealed throughout The Vampire Diaries Season 8, which starts back sometime in fall 2016.
Click to read more
and watch the video
or