Meryl Streep playing the little opera singer who couldn't in new biopic
The new film takes a look at the life of "Florence Foster Jenkins" in film of the same name.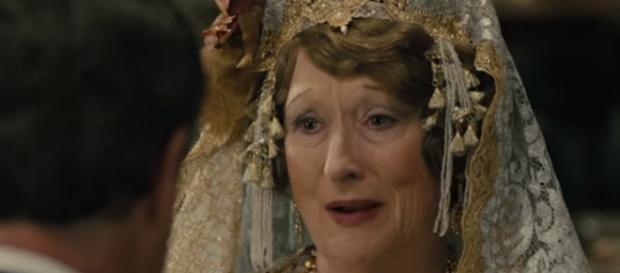 After playing the villainous, yet still melodic, witch in Disney's adaptation of Into the Woods, one would think that Meryl Streep is something of a decent singer, but she is going to play against type in a new movie.
The biopic, "Florence Foster Jenkins," depicts the life of the operatic singer of the same name. Jenkins was an American heiress turned patron of the arts who decided to fund her own career, in spite of a perceived lack of rhythm or ability.
Who was Florence Foster Jenkins?
Infamously, she is most known for a performance at Carnegie Hall, which initially started out, at the time, as the "fastest sold-out concert" in Carnegie Hall's history, which is depicted in the film.
Unfortunately, the event ended up with Jenkins being drowned out by roars of laughter.
Things got so bad, when her manager, St. Clair Bayfield, tried to defend her by saying that she did what she did because she loves music, he was virtually told her love of music should have been all the reason not to butcher music. To add salt in the wound, Jenkins passed away from a heart attack a month and a day after her performance.
With the power of technology, we can still hear Jenkins' singing for ourselves, and it is up for contemporary audiences to decide for themselves just how well-deserved her reputation was..
Who's Who in the Film?
The biopic depicts the infamous opera singer who charmed New York City with her "laughably bad voice" with Streep in the title role. British actor, Hugh Grant plays St. Clair Bayfield, a British stage actor who became her manager. American actor Simon Helberg, best known for The Big Bang Theory, plays Cosmé McMoon, Jenkins' accompanist and pianist.
Irish actor John Kavanagh plays Italian conductor Arturo Toscanini.
English director Stephen Frears, known for "The Queen," served as director. Nicholas Martin served as writer. Despite the story taking place in New York City, including a certain scene at Carnegie Hall, filming was primarily done in London and Liverpool.
Although already released in the United Kingdom, it will not be released in Jenkins' home country, the United States, until August 12.
Controversy over Authorship
Although currently well received, the film was not without controversy. Classical singer Julia Kogan reportedly got into a legal battle with the film, claiming that she had inspired Martin, her ex-boyfriend, to produce a film depicting the life of Jenkins, in addition to collecting biographical information for him, leading to her demanding to be made a co-author of the film. 
Martin has reportedly denied such claims, highlighting that Jenkins is a singer, and that he is the professional writer of the two. There is evidence, however, that he once referred to her as "my special collaborator" during production in an email, although he has claimed it was out of personal affection than anything professional.
Click to read more
and watch the video
or