Meghan Trainor sings her new song on 'The Tonight Show Starring Jimmy Fallon'
The pop princess performs 'Me Too' on the popular late night talk show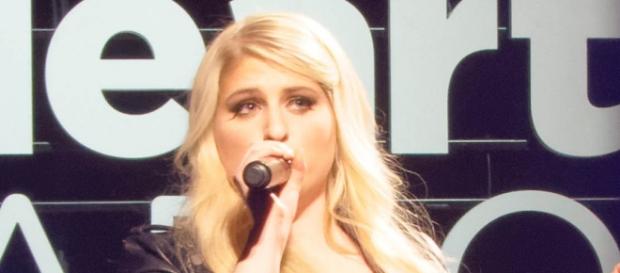 Grammy-winning artist Meghan Trainor has been all over the news and talk show circuit lately. The 22-year-old singer has a lot going on and a lot to promote. Last night she made an appearance on "The Tonight Show Starring Jimmy Fallon" and sang her new song "Me Too." The performance was near perfect until the end when Trainor slipped and fell to the ground. Jimmy Fallon, being a gracious host, laid down next to her on the floor to ease her embarrassment. His trick worked as they both laid their laughing, until Fallon helped Trainor up and closed out the show.
The Untouchable Tour 
Today Trainor released her sophomore album, Thank You, and she has a tour kicking off next month. Joining her on the Untouchable Tour is Hailee Seinfeld and Common Kings.
The tour begins on June 11 in Wantagh, NY and will go though September 25. The four month tour will take Trainor all over the country, with stops in Chicago, Los Angeles, Nashville, New York City, Miami, Boston and more. Last week, the first video from the new album was released. It wasn't out for long though because after it went online, Trainor saw that her body was photoshopped in the video to make her waist appear smaller then it is, so she pulled it. An unaltered version of the video was released the following day.
Trainor's first album, Title, was released in January of 2015 and it debuted at number one on the US Billboard 200. The album produced two extremely popular songs "All About That Bass" and " Lips Are Movin."
Best New Artist 
This past February, Trainor won the GRAMMY for Best New Artist at the 58th Annual GRAMMY Awards.
She was up against James Bay, Courtney Barnett, Sam Hunt and Tori Kelly. Although Trainor won the award in February, it took two months for her to receive the actual award. The way she received it was something special as well. Trainor was on the "The Ellen DeGeneres Show" and she told Ellen that she was still waiting to get the GRAMMY in the mail. Then Ellen reached behind her chair and presented Trainor with the award. 
Click to read more
and watch the video
or