Hollywood Vampires concert in Romania
Alice Cooper and Joe Perry sent a message to Romanian fans: 'We know where you live'.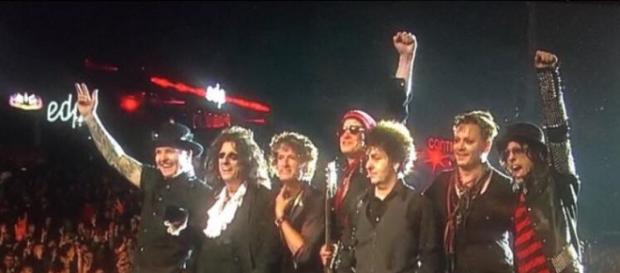 The only Hollywood Vampires' concert from Eastern Europe will take place in Romania on June 6th on the stage from Romexpo in Bucharest. At this concert the fans from Romania will have the opportunity to see Alice Cooper, Joe Perry from Aerosmith, Matt Sorum (ex - Guns N'Roses), Robert DeLeo  from Stone Temple Pilots and Johnny Depp.
Messages for their Romanian fans.
The rock band sent several messages to their Romanian fans. They expressed their eagerness for the event and they also "warned" the fans: 'We know where you live!' Alice Cooper, Joe Perry, Matt Sorum, Robert DeLeo, Tommy Henriksen (guitar) and Bruce Witkin (keyboards) sent two messages to the public in Romania who they expect in large numbers at their concert which will take place on June 6th.
In the first clip, Alice Cooper and Joe Perry say to their Romanian fans, "Hello, Romania, this is Joe Perry. And I'm Alice Cooper. This is Johnny Depp or what's left of him.
We are the Hollywood Vampires. We are performing for the first time in Eastern Europe at Romexpo in Bucharest Arena. We are excited about it and we will see you there. Bring your blood and remember: We know where you live!"
Alice Cooper chose the name of the group
Alice Cooper is the one who chose the name of the band -- The Hollywood Vampires  -- inspired by the exclusive club from the 70's in Los Angeles where the main activity was alcohol consumption. Famous artists like Ringo Starr & John Lennon (The Beatles), Keith Moon (The Who), Jim Morrison (The Doors), Jimi Hendrix, Mickey Dolenz or Harry Nilsson were members of this exclusive group.
Legendary hits.
Hollywood Vampires have chosen only five European countries where they want to play concerts this year. Romania is the only country from Eastern Europe chosen by them.
Besides their own songs composed by three members of the group and included in the album Hollywood Vampires released in 2015, the public will also be able to listen to reinterpretations of some legendary hits belonging to famous artists including The Who, The Doors, Motorhead, David Bowie and others.
Click to read more
and watch the video
or