'Grey's Anatomy' will Callie leave now that she's lost Sofia?
Arizona has won full custody of Sofia. Does this mean Callie will leave Grey Sloan Memorial for good?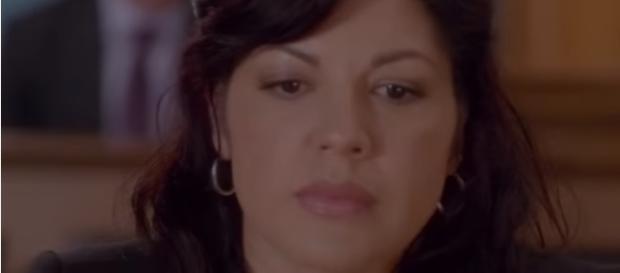 Last night on an episode of Grey's Anatomy, titled "Mama Tried," the custody battle between Callie Torres and Arizona Robbins finally came to a head. Both mothers fought hard for their daughter, but in the end only one mother could win.
Will Dr. Callie Torres leave? 
To the surprise of many viewers, Arizona was awarded full custody by the judge. Now that Callie has lost custody of Sofia, will she leave Grey Sloan Memorial Hospital for good? Callie was already planning to move to New York with her girlfriend, Penny Blake.
Penny won a grant that will require her to move to New York for a year. Callie decided to move to New York with her, and that is what started the entire custody battle. Callie just assumed she would be able to take Sofia without any resistance from Arizona.
It's hard to imagine Grey's Anatomy will follow Penny and Callie around in New York for a year and then return both to Grey Sloan Memorial Hospital.
Penny haters 
There are not many fans of Penny Blake. Callie started dating her before she knew she had taken part in the medical mistreatment of Derrick Shepherd after a car accident that resulted in his untimely death. Grey's Anatomy fans just could not get on board with Penny and Callie's relationship. While no one will be sad to see Penny go, that more than likely will mean Callie is leaving with her.
Contract expired
Sara Ramirez, who plays Callie Torres on Grey's Anatomy, has not yet renewed her contract for the show. Her three year contract expires in June of this year, and she has yet to renew the contract. Sara also shared a tweet which said, "That's a wrap for Doctor #CallieTorres." Many fans thought Sara may have been announcing her departure from the show with that tweet.
Do you think this is the end of Dr. Callie Torres' career at Grey Sloan Memorial? Would you like to see Grey's Anatomy continue to follow the relationship between Callie and Penny? Leave your feedback in the comments below and tune in for the next episode on Thursday, at 8/7c on ABC.
Click to read more
and watch the video
or