'General Hospital' spoilers: Maxie heads to Nurse's Ball With Griffin
With Nathan West still in the hospital, Maxie will have another date for the big night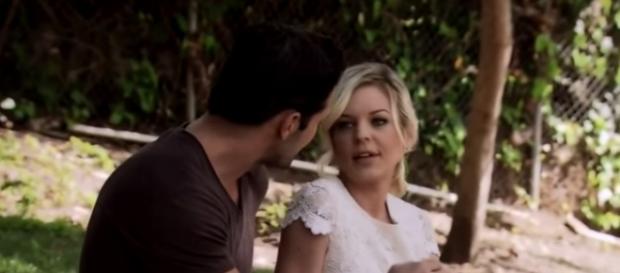 It is almost time for the Nurse's Ball on General Hospital, and spoilers are really starting to come out. Nathan West is still in the hospital and will be unable to attend, so this leaves Maxie Jones looking for a new date. Celeb Dirty Laundry shared spoilers that Maxie won't have a problem finding a date and ends up going with Griffin. Of course, Nathan may not be happy about that when he hears the news. 
How do they end up together? 
Maxie is very grateful that Griffin was the one to save Nathan West after the big Carlos attack.
Griffin did share that he owes Nathan, but didn't explain why. Everyone knows that Nathan doesn't know who Griffin is, but it is obvious that Griffin knows who Nathan is already.
It seems like it has something to do with Nathan's ex-wife Claudette, but this has not been confirmed yet. 
Basically, Maxie Jones will lean on Griffin and want him to take her to the ball since Nathan West won't be going. They seem to be really good friends, and Maxie is so in love with Nathan that it doesn't mean anything that they are going together to the Nurse's Ball. You know that there is no way that Maxie will miss this big event. 
What else goes on at the Nurse's Ball? 
Griffin will be going to the ball and of course, looking hot on the red carpet, but he will also be joining the Magic Milo performance on stage. Griffin is a priest, so this performance could end up being a bit odd for his character. 
The Nurse's Ball is also supposed to be the big wedding of Lucas Jones and Brad Cooper, but this doesn't sound like it will go down as planned.
Spoilers say that Lucas Jones will end up being the one who loses his life during the Nurse's Ball. Rumors are out that Luke Spencer may even show back up in town for his funeral. Of course, Robin will also be showing back up again. The Nurse's Ball is always something fans look forward to seeing each year on General Hospital.
Are you shocked to hear that Maxie Jones will end up going to the Nurse's Ball with Griffin? Do you think he will end up telling her how he knows Nathan West? Sound off in the comments section below on your thoughts, and don't miss new episodes of General Hospital on weekdays on ABC.
Click to read more
and watch the video
or